Kidz' Korner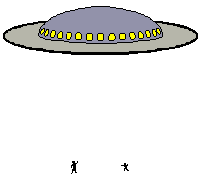 This section is for kids between the ages of 6 and 11.
Children are our future. And I feel it's important for them to be at least open-minded to the idea that there are other civilizations in outer space.
By acclimating them to the subject, it is my hope that some day, we can get rid of the fear and ridicule that surrounds the subject of UFOs and Flying Saucers.
After all, our closest neighbours might be just around the corner...