Charles James Hall was born and raised in rural Wisconsin, USA, near Madison. He enlisted in the United States Air Force on July 20, 1964. He was stationed at Nellis Air Force Base outside Las Vegas, Nevada, for over two years. While there, he served for extensive periods of time as a weather observer in the desert on the Gunnery ranges at Indian Springs, Nevada. Following this, he served a year in Vietnam in the Mekong Delta. Charles received an award for surviving more than 35 communist attacks. A year after receiving an honorable discharge in May 1968, Charles married Marie, on the condition that he would go to college. In record time, he earned both a Bachelor's Degree in Thermal Physics and a Masters degree in Applied Nuclear Physics at San Diego State University in San Diego, California. Charles did Ph.D. level post-graduate work at the University of Maine at Bangor. Later, he earned a Masters in Business Administration from Nova Southeastern University at Fort Lauderdale, Florida.
When Charles and Marie had been married about three months, Charles decided to risk telling her about the extraterrestrials he had encountered at Indian Springs. Marie wasn't terribly interested in whether or not ETs existed. She only said that if she met one, she hoped she would behave properly. That might just be another way to describe the current buzzword, 'Exopolitics'.
Raising a family pushed memories of the terror and unprecedented experiences on the Indian Springs gunnery ranges into the background, but they couldn't be forgotten. In his spare time, Charles began writing his memoirs for his children and grandchildren. Eighteen years later, when Marie discovered what he had been doing, she convinced him to publish them. She found it easy to come up with a title, cover design and helped edit what eventually became the Millennial Hospitality series, which is now four books. Marie particularly liked Charles' memoirs because they did not attempt to prove the existence of extraterrestrials, but rather, could be read and enjoyed by anyone. They read like a novel and the reader can learn about how to be a better human being. Because of the nature of the material, and to protect the innocent, it seemed prudent to change the names of friends, places, a few distances and directions. The Millennial Hospitality series is without precedent, a truly groundbreaking account of one man's actual experiences with extraterrestrials in the Nevada desert. It is already being hailed as a classic.
Of particular interest, Charles Hall's first paper describing his Photon Theory, is included in the appendix of Millennial Hospitality III, The Road Home, and further writing is included in Millennial Hospitality IV, After Hours. Hall's Photon Theory maintains that Einstein's theories fell short and, if scientists accept the hypotheses presented, vehicles can be built which will travel faster than the speed of light. In addition, the fourth book no longer disguises place names, has a section of credible updates and answers to frequently asked questions. Charles is currently working as a Nuclear Physicist and Database manager. With all the children grown, he and his wife Marie maintain their empty nest in Albuquerque, New Mexico.
---
The Tall Whites & Charles Hall
Nellis Air Force Base is a United States Air Force base located in the State Of Nevada, on the northeast of the city of games known as Las Vegas. Dating back to the 1940's, Nellis today has an extension of 46 km2. Indian Springs Air Force Auxiliary Airfield, renamed to Creech Air Force Base in 2005, is an Air Force base 78 km away from Nellis AFB that was in fact part of Nellis itself.
Charles James Hall claims that, while he served at the old Indian Springs ranges, he encountered, on several occasions, an extraterrestrial race (the Tall Whites). In a trilogy of books titled "Millennial Hospitality", Hall describes his life at Nellis and, later, in Vietnam as a fiction story (Mojave Wells being Indian Springs or Hall being Charlie Baker, for example).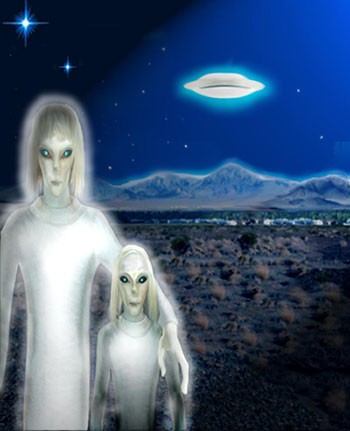 The Tall Whites
Airman First Class Charles Hall was Range Weather Observer for several gunnery ranges between 1965 and 1967. These places were located in the hot desert and probably looked very quiet and isolated as well. Hall's duty was simple: to release and track weather balloons, measure the winds, and call in reports to Nellis. His job could have been plain simple if the aliens Hall calls the Tall Whites weren't often around, silently observing him. The Tall White extraterrestrials could freely come and go, even in the barracks and in the weather shacks. Charles Hall believes that these aliens have been on Earth since at least the early 1950's, and possibly as long as a hundred years or more.
Following Hall, he was assigned to the ranges with some unusual conditions: no one could order him off the ranges but he was to be alone out there. No one was allowed to ask him questions regarding his job. He was given the surname "Teacher's Pet", a kind of special ID. Hall's first contacts were traumatic to say the least. He simply refused to believe what he saw, even though others before him spotted the Tall Whites. In fact, not being the first Weather Observer to be assigned at the ranges, previous reports mentioned ghosts and a radioactive horse. Many were scared and injured until they simply refused to go back to the Ranges.
With time and much self control, he got used to some Tall Whites known as Range Four Harry, Captain, Tour Guide and a female known as Teacher (a very influential Tall White). Hall was told by the Teacher he was chosen by the Tall Whites as another guinea-pig to try to accustom humans and Tall Whites together. While all other trials failed, Hall somehow passed the test. That's why he was identified as "Teacher's Pet"! Hall, contrary to the other Weather Observers, didn't panic when in front of a Tall White.
The Tall Whites have a base right in the desert, way beyond Range 4. From the Millennial Hospitality books, it is clear there are relationships between them and the US Government. Many times, Hall saw the aliens along with US Generals. The Tall Whites themselves revealed him how they agreed a commercial treaty: the US provided clothes, a base and other resources, in exchange of some advanced scientific knowledge.
Appearence of the Tall Whites
Charles Hall describes the Tall Whites as pale, with chalk white skin and possessing a thin, frail body. Quoting Hall himself:
"They had the usual thin frail body build, chalk white skin, large blue eyes, and nearly transparent platinum blonde hair. Like all of the tall whites, their eyes were perhaps twice the size of human eyes and they stetched noticeably further around the sides of their heads than human eyes do."
It is curious to notice the eyes change colour, from blue to pink, as they grow older. The Tall Whites are between 1.82 and 2.18 meters tall. Following Hall, the Tall Whites undergo a second stage of growth at 400 years old, until reaching the age of 800. Their language sounds like dog barking, even though they have learned English. Not much is known about their biology, if not that their bones take much much longer to heal. The Teacher once confessed Hall she required 5 years to recover from a bone fracture! A Tall White's brain can process informations twice as fast, outperforming anyone's reflexes. They can run faster than humans as well. Judging from the above description, their home planet (Hall hints at Arcturus) must be a warm, desert-like atmosphere (that's why they chose the Nevada desert).
Interacting with the Tall Whites
The Tall Whites must be excellent warriors and strategists. Their lives are centered around their children. They heavily protect them; injuring one would be a deadly mistake. Their culture seems almost military like: great importance and respect is given to social positions and hierarchies (them being kind to the Generals but snobby to plain soldiers). Additionally, many Tall Whites appear to be very proud, therefore they don't hesitateto kill.
All this leads me to think interacting with a Tall White requires an overdose of attention: the wrong words or sudden actions may easily offend a Tall White. It is now very clear why Hall remained calm and maintained distances, when they were around. Hall himself could anytime be subjected to harsh treatment if he inadvertently harmed, scared or disrupted the Tall Whites. Eventually, he was shot by a Tall White female named Pamela. On that occasion, no other Tall White helped Charles Hall (Captain even told him he was going to die!), even though he was the Pet...
A dual behaviour for sure: aggressive and friendly... It's quite clear how controlling these Tall White are. Not to forget the condescending attitude they have for those humans who have done them a service. Judging from the above quote, Hall gained the trust of some Tall Whites by showing them he was not interfering with their plans: he let them control him. Yet, they fear our mental ability to multi-task. If they really exist, it is easy to image the fragile position of the US military, dealing with a race like the Tall Whites.
Sources:
http://www.millennialhospitality.com/aboutus.php
http://www.exopolitics.org/charles-hall.htm
http://www.ufopsi.com/articles/tallwhites.html