Detlev Wulf Bronk (August 13, 1897 – November 17, 1975) was a prominent American scientist, educator, and administrator. He is credited with establishing biophysics as a recognized discipline. Bronk served as President of Johns Hopkins University from 1949 to 1953 and as President of the The Rockefeller University from 1953 to 1968. Bronk also held the presidency of the National Academy of Sciences between 1950 and 1962.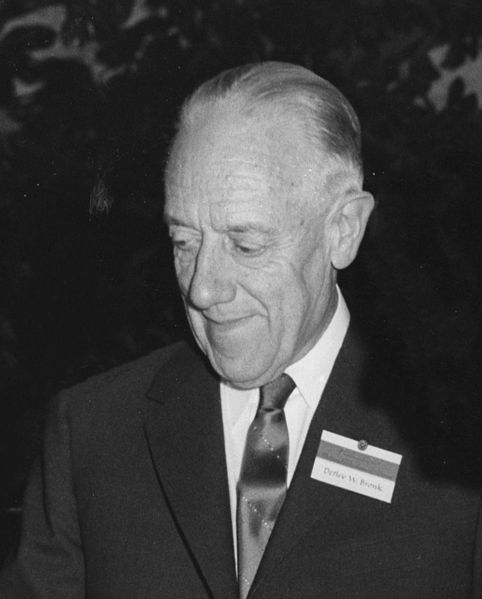 Bronk in 1963
Career
From 1953–1968 Bronk was president of The Rockefeller University. (The Rockefeller Institute for Medical Research was renamed The Rockefeller University in 1965). He firmly espoused academic freedom and resisted attempts by Wisconsin Senator Joseph McCarthy to have Johns Hopkins University dismiss Professor Owen Lattimore. The same year he was awarded the Public Welfare Medal from the National Academy of Sciences.[16] He was credited with formulating the modern theory of the science of biophysics.[17] Bronk was awarded the Presidential Medal of Freedom by President Lyndon B. Johnson on September 14, 1964. He was also a member of the National Aeronautics and Space council. He was a member of the Scientific Advisory Committee of the Brookhaven National Laboratories and a founder and President of the World Academy of Art and Science (WAAS). He was also an advisory member of the Atomic Energy Commission. He served on the board of trustees for Science Service, now known as Society for Science & the Public, from 1965–1967. Bronk is quoted as saying:
"A great deal of undergraduate education is built on ... telling a student what to do—at the very time he is developing intellectual habits for life. Too rarely is a student told, 'This is the problem with which we are going to deal. Here are the books.' "
Source:
http://en.wikipedia.org/wiki/Detlev_Bronk