Frank Boyer Salisbury was born in Utah in 1926. He graduated from the University of Utah with a B.S. (1951) and an M.A. (1952). He received his Ph.D. from the California Institute of Technology (1955). He was an assistant professor of Botany at Pomona College from 1954-1955, then assistant professor, and professor of Plant Physiology at Colorado State University from 1955-1966. He served as head of the Department of Plant Science at Utah State University from 1966 to 1970, when he resigned to devote more time to research and textbook writing. He retired in 1997 after leading a project to grow wheat in the Russian space station Mir.
Salisbury's interest in UFOs developed from an interest in Exobiology. In April 1962, he published an article entitled "Martian Biology" in Science magazine. In response, he received many letters calling his attention to the UFO phenomenon. After surveying the literature, he was led to an admission that considering the possibility of extraterrestrial life, we should investigate the chance that we are already being visited.
In October 1966, following a talk on the possibility of life on Mars to the Association of Utah Science Teachers, he was approached by Joseph Junior Hicks, a junior high school science teacher from Roosevelt, Utah, in the heart of the Uintah Basin. Hicks had been investigating a localized wave of UFO sightings in the Basin, which piqued Salisbury's interest. In January 1967, Salisbury published "The Scientist and the UFO" in Bioscience, and the publisher asked him to expand it into a book. Recalling Junior Hicks' stories he began an investigation of UFO reports in the Uintah Basin with the assistance of Hicks, eventually publishing The Utah UFO Display: A Biologist's Report in 1974.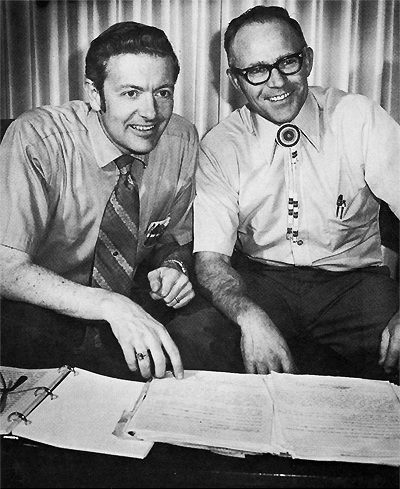 Frank B. Salisbury (left) and Joseph Junior Hicks (1972).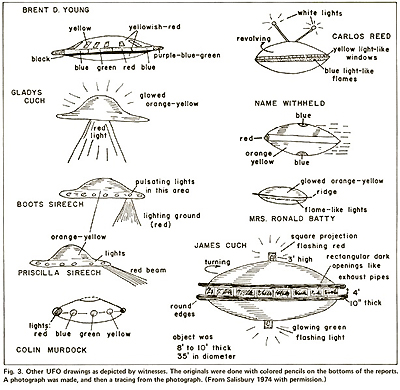 UFO drawings as depicted by witnesses in the Uintah Basin. The originals
were done with color pencils on the bottom of the reports. A photograph
was made, and then a tracing from the photograph (Click image to enlarge).
Links to Related Documents:
The Frank B. Salisbury Papers (1943-1997) at the University of Utah consist mainly of research materials and drafts for Salisbury's writings, as well as information on UFOs.
http://db3-sql.staff.library.utah.edu/lucene/Manuscripts/null/Accn1778.xml/complete
Salisbury's Written Statement to U. S. House of Representatives' Committee on Science and Astronautics Symposium on Unidentified Flying Objects, July 29th, 1968.
http://www.project1947.com/shg/symposium/salisbury.html
"The Scientist And The UFO", BioScience, Jan., 1967
http://http://www.project1947.com/shg/tom/salisbury_bios.htm
"Recent Developments in the Study of UFOS", BioScience, Aug., 1975
http://www.project1947.com/shg/tom/salisbury_bio_75.htm
Salisbury's NASA page for "Project Greenhouse"
http://quest.nasa.gov/smore/team/fsalisbury.html
Gil Levin's Mars/Viking Page
http://mars.spherix.com/mars.html
Source:
http://sohp.us/sohp/interview-index/biography-dr-frank-boyer-salisbury/