Franklin Delano Roosevelt (January 30, 1882 – April 12, 1945), commonly known by his initials, FDR, 32nd President of the United States (1933–1945), served for 12 years and four terms until his death in 1945; the only president ever to do so, and a central figure in world events during the mid-20th century, leading the United States during a time of worldwide economic depression and total war. A dominant leader of the Democratic Party and the only American president elected to more than two terms, he built a New Deal Coalition that realigned American politics after 1932, as his domestic policies defined American liberalism for the middle third of the 20th century.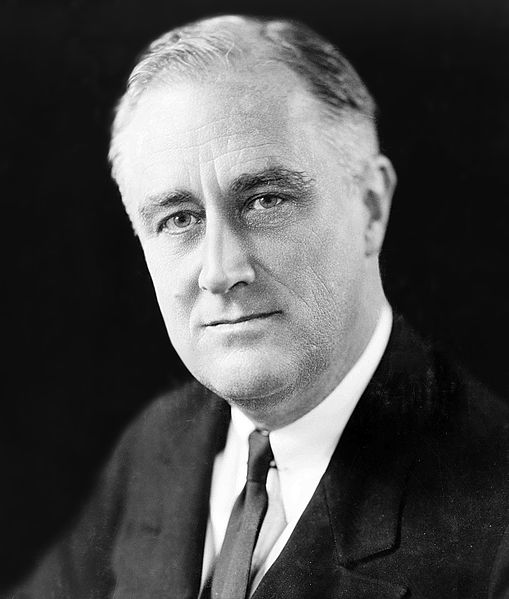 32nd President of the United States
With the bouncy popular song "Happy Days Are Here Again" as his campaign theme, FDR defeated incumbent Republican Herbert Hoover in November 1932, at the depth of the Great Depression. Energized by his personal victory over polio, FDR's persistent optimism and activism contributed to a renewal of the national spirit. Assisted by key aide Harry Hopkins, he worked closely with British Prime Minister Winston Churchill and Soviet leader Joseph Stalin in leading the Allies against Nazi Germany and Japan in World War II. The war ended the depression and restored prosperity.
In his first hundred days in office, which began March 4, 1933, Roosevelt spearheaded major legislation and issued a profusion of executive orders that instituted the New Deal—a variety of programs designed to produce relief (government jobs for the unemployed), recovery (economic growth), and reform (through regulation of Wall Street, banks and transportation). The economy improved rapidly from 1933 to 1937, but then relapsed into a deep recession. The bipartisan Conservative Coalition that formed in 1937 prevented his packing the Supreme Court or passing any considerable legislation; it abolished many of the relief programs when unemployment diminished during World War II. Most of the regulations on business were ended about 1975–1985, except for the regulation of Wall Street by the Securities and Exchange Commission, which still exists. Along with several smaller programs, major surviving programs include the Federal Deposit Insurance Corporation, which was created in 1933, and Social Security, which Congress passed in 1935.
As World War II loomed after 1938, with the Japanese invasion of China and the aggression of Nazi Germany, FDR gave strong diplomatic and financial support to China and Great Britain, while remaining officially neutral. His goal was to make America the "Arsenal of Democracy" which would supply munitions to the Allies. In March 1941, Roosevelt, with Congressional approval, provided Lend-Lease aid to the countries fighting against Nazi Germany with England, Scotland, and Wales. With very strong national support, he made war on Japan and Germany after the Japanese attack on Pearl Harbor on December 7, 1941, calling it a "date which will live in infamy". He supervised the mobilization of the U.S. economy to support the Allied war effort. As an active military leader, Roosevelt implemented an overall war strategy on two fronts that ended in the defeat of the Axis Powers and the development of the world's first atom bomb. In 1942 Roosevelt ordered the internment of 100,000 Japanese American civilians. Unemployment dropped to 2%, relief programs largely ended, and the industrial economy grew rapidly to new heights as millions of people moved to new jobs in war centers, and 16 million men and 300,000 women were drafted or volunteered for military service.
Roosevelt dominated the American political scene not only during the twelve years of his presidency, but also for decades afterward. He orchestrated the realignment of voters that created the Fifth Party System. FDR's New Deal Coalition united labor unions, big city machines, white ethnics, African Americans, and rural white Southerners. He also influenced the later creation of the United Nations and Bretton Woods. Roosevelt is consistently rated by scholars as one of the top three U.S. Presidents, along with Abraham Lincoln and George Washington.
The Battle of Los Angeles - February 25, 1942
As America was gathering its senses after the shocking attack on Pearl Harbor in December, 1941, there was a heightened feeling of insecurity and anxiousness. The skies were being watched as never before as a giant UFO moved through California, alerting the military and civilian watchers as well. This case is known as the "Battle of Los Angeles," and is one of the most important cases in Ufology.
It would be early morning on February 2, 1942 when the incoming craft sirens were first heard in the Los Angeles area. Many Americans were expecting another wave of Japanese fighter planes, and thought this is what they would see as they left their homes, and ventured outside. How wrong they were! The first sightings of a large UFO would be made in Culver City, and Santa Monica.
Air Raid Wardens were ready to go at the first hint of an invasion. But, this invasion would be something other than Japanese planes. The giant hovering object was soon lit up by the gigantic spotlights of the Army's 37th Coast Artillery Brigade. Everyone who looked up was shocked by the sight of the giant UFO sitting above their city. Military aircraft were sent to confront the object.
Because of a well-organized alert system, the whole California southern section was searching the night skies in a matter of minutes. What they saw were beaming searchlights illuminating the night sky, all of them converging on one thing-a UFO. A similar scene would be repeated later during the The Norwood Searchlight Incident albeit, on a smaller scale. The beams of light would soon be accompanied by tracer fire from anti-aircraft artillery, all of the rounds aiming at the invading craft. The giant UFO would take direct hit after hit, yet without damage.
The 37th Brigade was relentless in its attempt to bring down the large object, but found no success. The barrage of spent shells would fall over the entire area-no place was safe this night. Many were injured, and there were even reports of death from the falling shells. According to newspaper reports, eyewitnesses described the sight of the UFO like a "surreal, hanging, magic lantern."
As the large UFO moved into more lighted areas, view of the object became better. It moved directly over the MGM studios in Culver City. Fortunately, an extremely good quality photograph was taken of the object-beams attached, tracer fire visible. This photograph has become a classic UFO photograph. The UFO would soon move over Long Beach before disappearing altogether.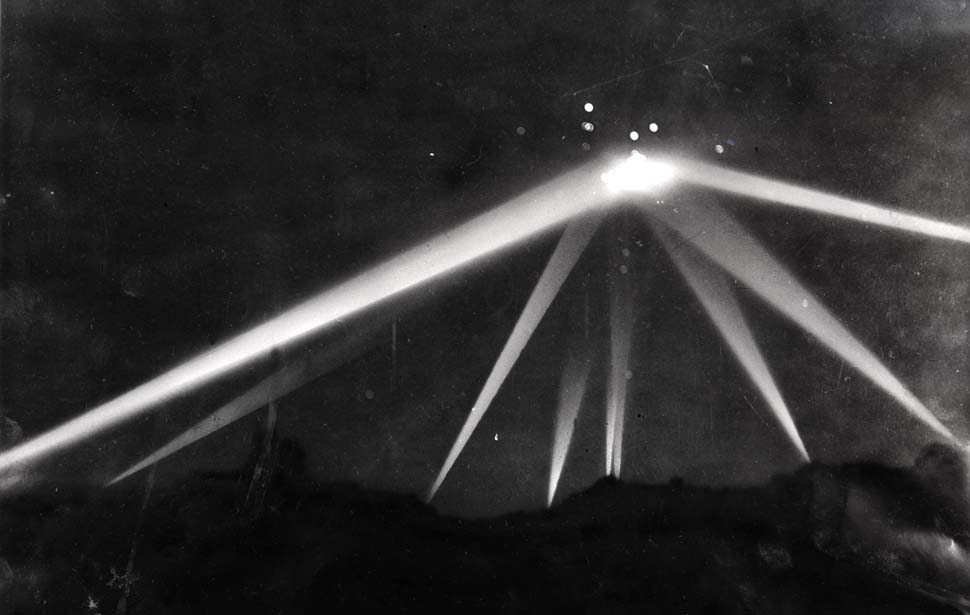 Feb. 25, 1942: Searchlights converge on an unknown object in the skies over Los Angeles.
During the early morning air-raid alert, more than 1,400 anti-aircraft shells are fired.
General George Marshall's Secret Memo to President Roosevelt about the unidentified objects over Los Angeles on February 25, 1942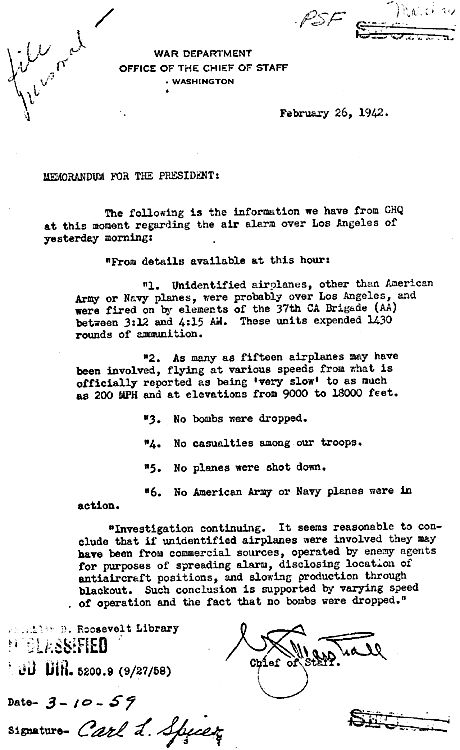 President Roosevelt writes Secretary of War Harry Stimson concerning the air raid over Los Angeles on February 25th. The letter seems to indicate the event was not seen as a UFO event.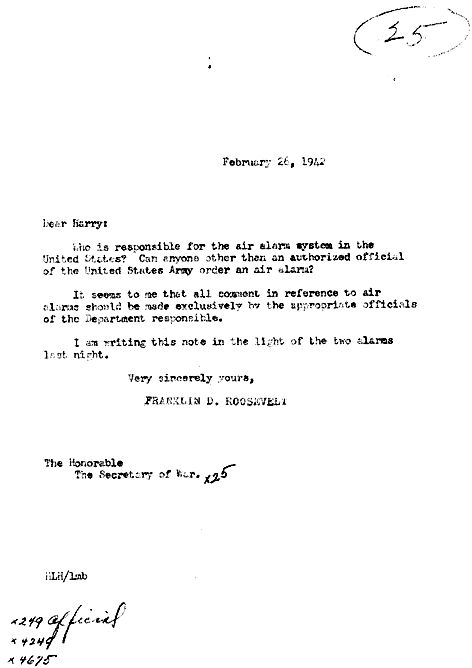 Eleanor's UFO Interest
There were a number of UFO sightings that had occurred in March 1950, and at least one appeared to catch Eleanor Roosevelt's eye. These sighting reports may themselves have been inspired by the widely read Major Donald Keyhoe article on flying saucers in TRUE Magazine a month earlier.
The article it is believed caught Eleanor's eye was the following:
"PILOT MEETS A FLYING DISC -- Veteran Airman Says It was Plenty Fast"
LITTLE ROCK, March 21 -- (AP) -- Arkansas' first flying saucer in nearly three years was reported last night--and by a veteran airline pilot.
Capt. Jack Adams of Little Rock, pilot of a Chicago & Southern Airlines plane en route from memphis, Tenn. to Houston, Tex., radioed the C & S operations office here that he had sighted the object near Stuttgart, Ark.
On landing here a few minutes later, Adams described the object As circular and "about the size of a DC-3."
At Houston Adams said: "The object, I'd judge, was about 1000 feet in front and above us. We were headed almost due west and this object crossed our course from the south. It was headed due north."
Adams, who was more than 7000 hours in the air, said the disc Appeared to be about 100 feet in diameter and was traveling at a terrific rate of speed--"500 to 600 miles an hour."
"There was a bright white light flashing intermittently from the top of the thing," he said, "and around the edge were what appeared to be ports, something like windows in an airplane. There was a light coming from the ports, but not a bright one."
Adams said he saw no vapor trail nor any exhaust flame that might indicate a source of power. It made no noise that he could hear over the sound of his own engines. "I have no idea what it was," he said, "but I'm convinced it was in controlled flight. My guess is that it's something developed either by the Army or Navy."
Thanks to UFO historian Barry Greenwood we have an actual 2-page transcript of the TV show "Today with Mrs. Roosevelt." The show was on politics but did include a UFO section on the sighting by Capt. Jack Adams. Adams was a guest on the show.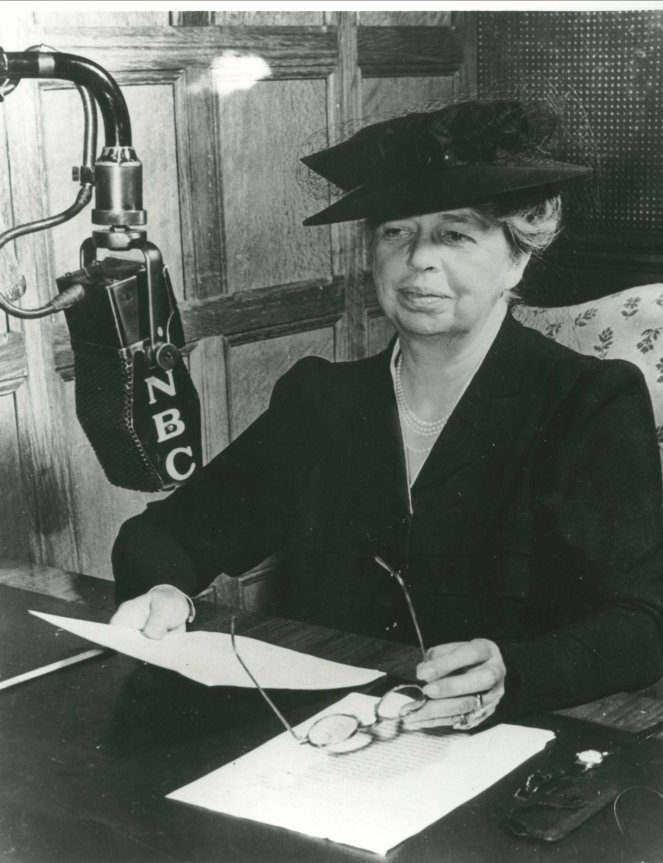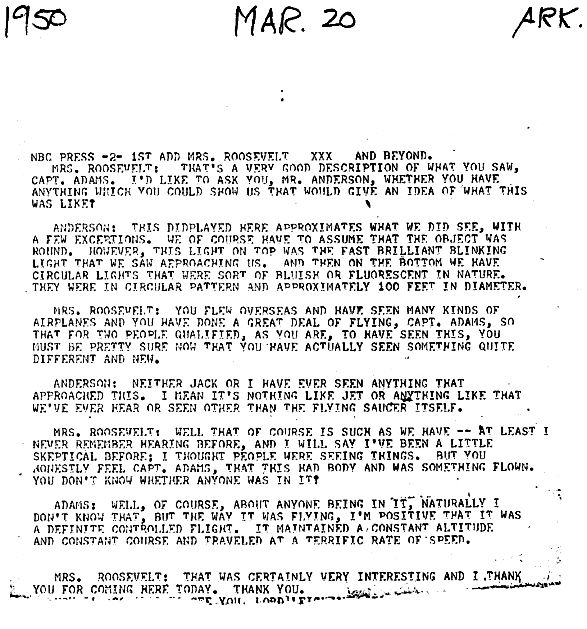 Sources:
http://en.wikipedia.org/wiki/Franklin_D._Roosevelt
http://ufos.about.com/od/bestufocasefiles/p/losangeles1942.htm
http://www.presidentialufo.com/franklin-d-roosevelt
http://www.presidentialufo.com/franklin-d-roosevelt/59-eleanors-ufo-interest