Nathan Farragut Twining, (October 11, 1897 – March 29, 1982) was a United States Air Force General, born in Monroe, Wisconsin.[1] He was Chief of Staff of the United States Air Force from 1953 until 1957. As Chairman of the Joint Chiefs of Staff from 1957 to 1960 he was the first member of the Air Force to serve in that role.
Military career
Nathan Twining came from a military background; his forebears had served in the United States Army and Navy since the French and Indian War. His mother was Frances Staver Twining, author of Bird-Watching in the West.
In 1913, Twining moved with his family to Oswego, Oregon, serving in the Oregon National Guard from 1915 to 1917. In 1917, he received an appointment to West Point. Because the program was shortened so as to produce more officers for combat, he spent only two years at the academy and graduated just a few days too late for service in World War I.
After graduating in 1918 and serving in the infantry for three years arriving in Europe in July 1919, he transferred to the Air Service. Over the next 15 years he flew fighter aircraft in Texas, Louisiana, and Hawaii, while also attending the Air Corps Tactical School and the Command and General Staff College. When World War II broke out in Europe he was assigned to the operations division on the Air Staff; then in 1942 he was sent to the South Pacific where he became chief of staff of the Allied air forces in that area.
In January 1943, he was promoted to Major General and assumed command of the Thirteenth Air Force, and that same November he traveled across the world to take over the Fifteenth Air Force from Jimmy Doolittle. On 1 February 1943, the U.S. Navy rescued Brig. Gen. Twining, the 13th Air Force Commander, and 14 others near New Hebrides Islands. They ditched their plane on the way from Guadalcanal to Espiritu Santo and spent six days in life rafts. When Germany surrendered, Arnold sent Twining back to the Pacific to command the B-29s of the Twentieth Air Force in the last push against Japan, but he was there only a short time when the atomic strikes ended the war. On 20 October 1945, Twining led three B-29s in developing a new route from Guam to Washington via India and Germany. They completed the 13,167-mile-trip in 59 hours, 30 minutes. He returned to the States where he was named commander of the Air Materiel Command, and in 1947 he took over Alaskan Air Command.
After three years there, he was set to retire as a Lieutenant General, but when Muir Fairchild, the vice chief of staff, died unexpectedly of a heart attack, Twining was elevated to full General and named his successor.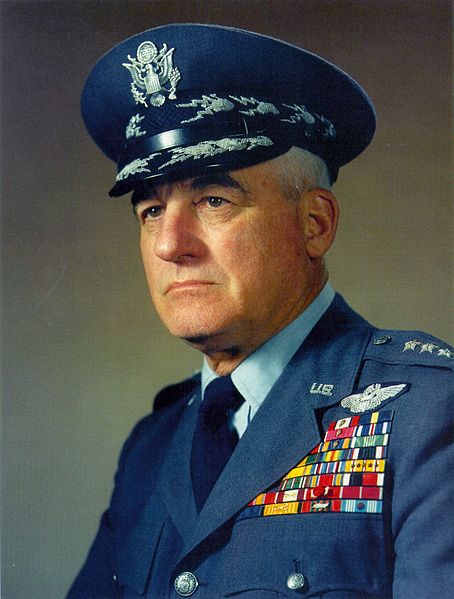 General Nathan F. Twining, USAF
In 1947, Twining was asked to study UFO reports; he recommended that a formal study of the phenomenon take place; Project Sign was the result.
When Hoyt Vandenberg retired in mid-1953, Twining was selected as chief; during his tenure, massive retaliation based on airpower became the national strategy.
In 1957, President Eisenhower appointed Twining Chairman of the Joint Chiefs of Staff.
General Twining died on March 29, 1982 at Lackland Air Force Base in Texas and was buried in Arlington National Cemetery.
Source:
http://en.wikipedia.org/wiki/Nathan_Farragut_Twining