James Earl "Jimmy" Carter, Jr. (born October 1, 1924) is an American politician who served as the 39th President of the United States (1977–1981) and was awarded the 2002 Nobel Peace Prize, the only U.S. President to have received the Prize after leaving office. Before he became President, Carter, a Democrat, served as a U.S. Naval officer, was a peanut farmer, served two terms as a Georgia State Senator and one as Governor of Georgia (1971–1975).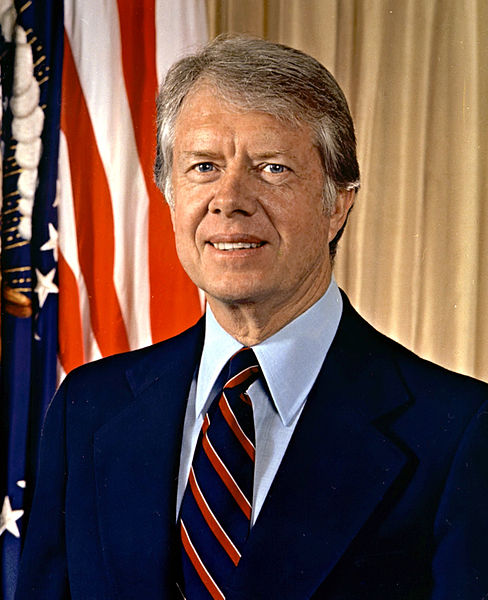 39th President of the United States
During Carter's term as President, he created two new cabinet-level departments: the Department of Energy and the Department of Education. He established a national energy policy that included conservation, price control, and new technology. In foreign affairs, Carter pursued the Camp David Accords, the Panama Canal Treaties, the second round of Strategic Arms Limitation Talks (SALT II), and returned the Panama Canal Zone to Panama. He took office during a period of international stagnation and inflation, which persisted throughout his term. The end of his presidential tenure was marked by the 1979–1981 Iran hostage crisis, the 1979 energy crisis, the Three Mile Island nuclear accident, the Soviet invasion of Afghanistan, the United States boycott of the 1980 Summer Olympics in Moscow (the only U.S. boycott in Olympic history), and the eruption of Mount St. Helens in Washington state.
By 1980, Carter's popularity had eroded. He survived a primary challenge against Ted Kennedy for the Democratic Party nomination in the 1980 election, but lost the election to Ronald Reagan, the Republican candidate. On January 20, 1981, minutes after Carter's term in office ended, the 52 U.S. captives held at the U.S. embassy in Iran were released, ending the 444-day Iran hostage crisis.[3] To this day, he remains the most recent sitting Democrat to lose a bid for re-election, along with being the second latest presidential incumbent to lose an election.
Carter and his wife Rosalynn founded the Carter Center in 1982, a nongovernmental, not-for-profit organization that works to advance human rights. He has traveled extensively to conduct peace negotiations, observe elections, and advance disease prevention and eradication in developing nations. Carter is a key figure in the Habitat for Humanity project,[5] and also remains particularly vocal on the Israeli–Palestinian conflict.
Carter and UFOs
Jimmy Carter is one of two U.S. Presidents who have reported seeing a UFO before becoming President.
On January 6 1969, while Governor of Georgia, Carter claims he saw a UFO. He later said "It was the darndest thing I've ever seen. It was big, it was very bright, it changed colors and it was about the size of the moon.. We watched it for ten minutes, but none of us could figure out what it was."
"One thing's for sure, I'll never make fun of people who say they've seen unidentified objects in the sky. If I become President, I'll make every piece of information this country has about UFO sightings available to the public and the scientists ." – Jimmy Carter, 1976
Unfortunately, Carter did not fulfill his promise, citing "defense implications".
Sources:
http://www.ufoevidence.org/cases/case294.htm
http://imadork.hubpages.com/hub/The-Stars-See-UFOs-Too