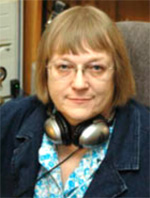 Wendy Connors
Wendy Ann Connors originally hails from Iowa. Following High School she joined the United States Air Force. Completing her basic training at Lackland AFB her first duty assignment was at Stewart AFB in New York. In 1968 she was transferred to Mactan Island AFB, Philippines and worked as a Communications Supervisor and NCOIC of Administration. Honorably discharged an E-5 in the summer of 1969, Wendy returned to Iowa and completed her degrees at the University of Iowa and in 1980, moved to Albuquerque, New Mexico.
Her accomplishments are many. She brought the history of Project SIGN and its members to the field, as well as the involvement and genius of Alfred C. Loedding. She has also brought many unknown documents to the field as well. She is a founding member of the SIGN Historical Group and held one of the largest audio and photographic archives in the world dealing with crypto-aeronautics.
---
Dear colleagues,
I am happy to announce that Wendy Connors' important audio compilations 'Faded Discs' are finally available in public domain for every researcher and buff of UFO history.
After Wendy retired, her compilations were extremely hard to find and became very rare. It took me few years to locate them all – I had to contact different UFO stores world wide to find and buy every single album.
Finally, a few days ago, researcher Isaac Koi was able to get permission from Roderick B. Dyke - archivist of the Archives for UFO Research – for albums to be released in public domain. Isaac requested me to upload albums from my archives and here they finally are. We decided to store them at archive.org which is a good place for storing historical material.
Those albums are true treasure for every researcher. This is a perfect example why archiving is so important. Keep and care about your personal archives. It will be important for the future generations.
Best wishes.
UFORadio
You can download and listen to Faded Discs albums at these links: