Harrison Hagan "Jack" Schmitt (born July 3, 1935) is an American geologist, a retired NASA astronaut, university professor, and a former U.S. senator from New Mexico.
He was the twelfth and last man to walk on the Moon, as Apollo 17 crewmate Eugene Cernan exited the Apollo Lunar Module first. However, as Schmitt re-entered the module first, Cernan became the last astronaut to walk on and depart the moon. Schmitt is also the only geologist as well as the only person to have walked on the Moon who was never a member of the United States Armed Forces, although he is not the first civilian, since Neil Armstrong left military service prior to his landing in 1969.
Biography
Early life and education
Born in Santa Rita, New Mexico, Schmitt grew up in nearby Silver City. He received a B.S. degree in geology from the California Institute of Technology in 1957 and then spent a year studying geology at the University of Oslo in Norway. He received a Ph.D. in geology from Harvard University in 1964, based on his geological field studies in Norway.
NASA career
Before joining NASA as a member of the first group of scientist-astronauts in June 1965, he worked at the U.S. Geological Survey's Astrogeology Center at Flagstaff, Arizona, developing geological field techniques that would be used by the Apollo crews. Following his selection, Schmitt spent his first year at Air Force UPT learning to become a jet pilot. Upon his return to the astronaut corps in Houston, he played a key role in training Apollo crews to be geologic observers when they were in lunar orbit and competent geologic field workers when they were on the lunar surface. After each of the landing missions, he participated in the examination and evaluation of the returned lunar samples and helped the crews with the scientific aspects of their mission reports.
Schmitt spent considerable time becoming proficient in the CSM and LM systems. In March 1970, he became the first of the scientist-astronauts to be assigned to space flight, joining Richard F. Gordon, Jr. (Commander) and Vance Brand (Command Module Pilot) on the Apollo 15 backup crew. The flight rotation put these three in line to fly as prime crew on the third following mission, Apollo 18. Apollo flights 18 and 19 were cancelled in September 1970, but Schmitt was assigned in August 1971 to fly on the last lunar mission, Apollo 17, replacing Joe Engle as Lunar Module Pilot. He landed on the Moon with commander Gene Cernan in December 1972.
Schmitt claims to have taken the photograph of the Earth known as The Blue Marble, one of the most widely distributed photographic images in existence. (NASA officially credits the image to the entire Apollo 17 crew.)
While on the Moon's surface, Schmitt — the only geologist in the astronaut corps — collected the rock sample designated Troctolite 76535, which has been called "without doubt the most interesting sample returned from the Moon". Among other distinctions, it is the central piece of evidence suggesting that the Moon once possessed an active magnetic field.
As he returned to the Lunar Module before Cernan, Schmitt is the next-to-last person to have walked on the Moon's surface.
After the completion of Apollo 17, Schmitt played an active role in documenting the Apollo geologic results and also took on the task of organizing NASA's Energy Program Office.
Post-NASA career
In August 1975, Schmitt resigned from NASA to seek election as a Republican to the United States Senate representing New Mexico. Schmitt faced two-term Democratic incumbent, Joseph Montoya, whom he defeated 57% to 42%. He served one term and, notably, was the ranking Republican member of the Science, Technology, and Space Subcommittee. He sought a second term in 1982, but due to a deep recession and concerns that he wasn't paying attention to local matters, he was defeated in a re-election bid by the state Attorney General Jeff Bingaman by a 54% to 46% margin. Bingaman's campaign slogan asked, "What on Earth has he done for you lately?" Following his Senate term, Schmitt has been a consultant in business, geology, space, and public policy.
During his term in the Senate, Schmitt sat at the chamber's Candy desk.
Schmitt is an adjunct professor of engineering physics at the University of Wisconsin–Madison, and has long been a proponent of lunar resource utilization. In 1997, he proposed the Interlune InterMars Initiative, listing among its goals the advancement of private sector acquisition and use of lunar resources, particularly lunar helium-3 as a fuel for notional nuclear fusion reactors.
The idea of generating significant power from helium 3 obtained from the moon is regarded as wildly impractical.
Schmitt was chair of the NASA Advisory Council, whose mandate is to provide technical advice to the NASA Administrator, from November 2005 until his abrupt resignation on October 16, 2008. In November 2008, he quit the Planetary Society over policy advocacy differences, citing the organization's statements on "focusing on Mars as the driving goal of human spaceflight" (Schmitt said that going back to the Moon would speed progress toward a manned Mars mission), on "accelerating research into global climate change through more comprehensive Earth observations" (Schmitt voiced objections to the notion of a present "scientific consensus" on climate change as any policy guide), and on international cooperation (which he felt would retard rather than accelerate progress), among other points of divergence.
Regarding the international scientific consensus on anthropogenic climate change, Schmitt has said that "the CO2 scare is a red herring", that the "global warming scare is being used as a political tool to increase government control over American lives, incomes and decision-making," and that scientists who might otherwise challenge prevailing views on climate change dare not do so for fear of losing funding.
Likewise, in a 2009 interview with libertarian talk-radio host Alex Jones, Schmitt asserted a link between Soviet Communism and the American environmental movement: "I think the whole trend really began with the fall of the Soviet Union. Because the great champion of the opponents of liberty, namely communism, had to find some other place to go and they basically went into the environmental movement." At the Heartland Institute's 6th International Conference on Climate Change Schmitt said that climate change was a stalking horse for National Socialism.
In January, 2011, he was appointed as Secretary of the New Mexico Energy, Minerals and Natural Resources Department in the cabinet of Governor Susana Martinez, but was forced to give up the appointment the following month after refusing to submit to a required background investigation.
Harrison Schmitt wrote a book entitled "Return to the Moon: Exploration, Enterprise, and Energy in the Human Settlement of Space" in 2006.
He lives in Silver City, New Mexico, and spends some of his summer at his northern Minnesota lake cabin.
Senator Schmitt and Cattle Mutilations
The FBI has joined in the investigation of the bizarre mutilation of thousands of grazing horses and cattle over an 18-state area - attacks which have been linked to UFO's.
Disclosure of the FBI role was made at a recent conference of officials from seven states where the attacks have reached an alarming level.
Sen. Harrison Schmitt (R.-N. Mex.), the ex-astronaut and scientist who organised the conference, declared: "Either we've got a UFO situation or we've got a massive, massive conspiracy which is enormously well-funded."
At least 8,000 cattle and horses have been butchered with surgical precision over an estimated 1.28 million square mile area stretching from Tennessee to Oregon since the mutilations began around 1970. The 1.28 million square miles is more than a third of the total land area in the continental United States.
In many cases, the attacks have coincided with UFO sightings. Baffled investigators say the strange pattern of the mutilation includes these startling facts:
• No tire marks, footprints or other signs of human activity are found near the mutilated carcasses.
• Only the blood and certain parts of the animals — usually the reproductive organs — are removed.
• Trace elements found on and in some carcasses are the same as those collected after a UFO sighting in New Mexico.
• Buzzards and coyotes refuse to eat the mutilated horses and cattle.
Sen. Schmitt, who received a Ph.D. in geology from Harvard University and was a member of the Apollo 17 moon-landing crew, said state and local law enforcement officials have been unable to come up with leads on their own and FBI help is needed.
"To date, the mutilations have been as mysterious as they're been grisly," he said.
"The Justice Departement authorized the FBI office in Albuquerque to become involved in the investigation of these crimes on the basis that several of the mutilation killings occured on Indian lands."
Many attacks have occured on animals at the Jicarilla Apache Reservation in Dulce, N. Mex.
"Any place we've had a mutilation, we've also had UFO sightings," reported Gabe Valdez, a veteran New Mexico state trooper who has investigated more than 30 attacks.
If predators are involved, he said, "we have some predators with super powers. We find these carcasses are being lifted up (off the ground) and later, they leave clamp marks on the legs. It is also very hard for me to believe that a predator can take the heart out of an animal through a small wound in the neck."
Dr. Henry Monteith, an engineering physicist at Sandia Laboratories which handles secret government projects, revealed that Indians are so terrified by the mutilations, they bury the carcasses immediately and are reluctant to discuss what happened. Even their dogs refuse to go near the carcasses.
Dr. Monteith, who has been investigating the attacks since they began, said Indians have told him of actually seeing spaceships land and unload "star people" who chase down animals and take them back to the spaceship.
"There have been thousands of these mutilations nobody knows about. The Indians are usually frightened to death," he said.
"They don't say anything about it because they know it's being done by 'star people', they know why they're doing it, so therefore we should leave it alone."
"Those are their exact words... The 'star people' know what they're doing and should be trusted."
Dr. Monteith said he has no doubt that aliens from outer space are responsible for the attacks and are using the animals bodies as part of the study of life on earth.
Many other investigators — police, scientists and UFO researchers — agree that UFOs are the only possible explanation.
Suid Richard Sigismund, a Boulder, Colo., psychologist and UFO researcher: "What few clues we have concerning those responsible for the mutilations suggest that we are dealing with well-equipped, highly capable airborne entities... We are forced, I feel, to the hypothesis that unidentified aircraft are the means — UFOs."
To aid in solving the mystery, District Attorney Eloy Martinez of Espanola, N. Mex., is seeking a $40.000 grant from the U.S. Law Enforcement Assistance Administration.
Admitting UFOs are a possibility, he said:
"I might be the first district attorney in the country to prosecute an alien from outer space."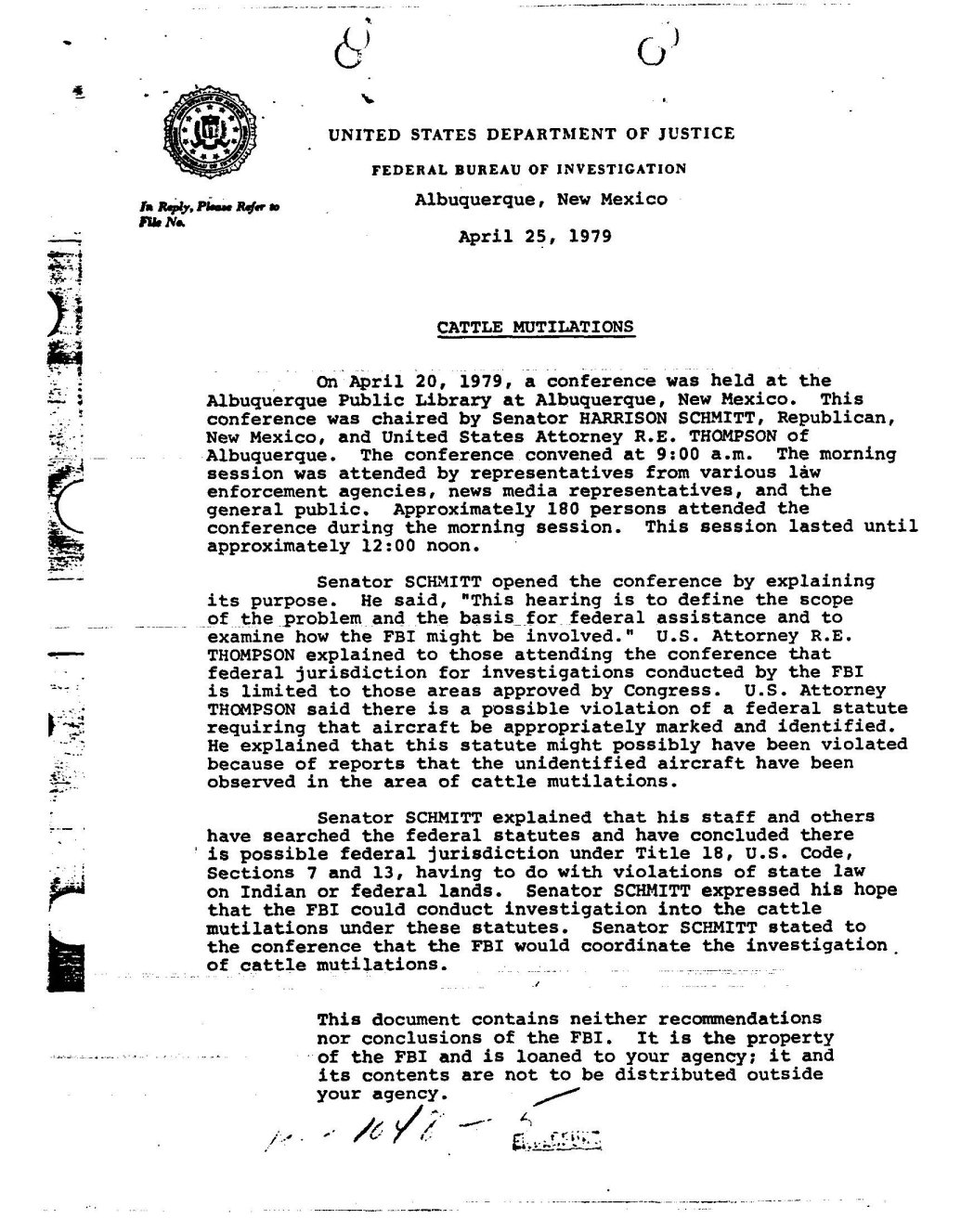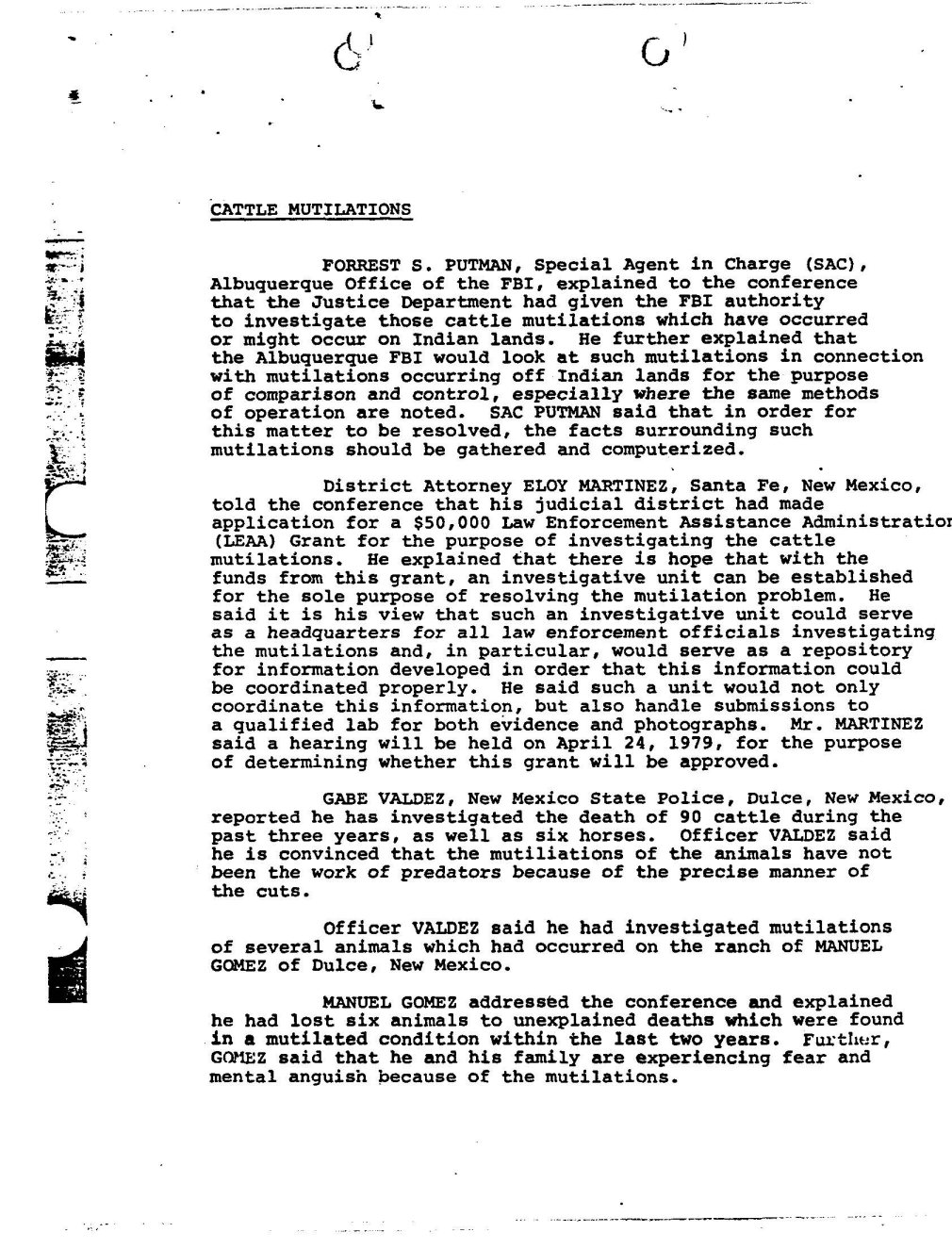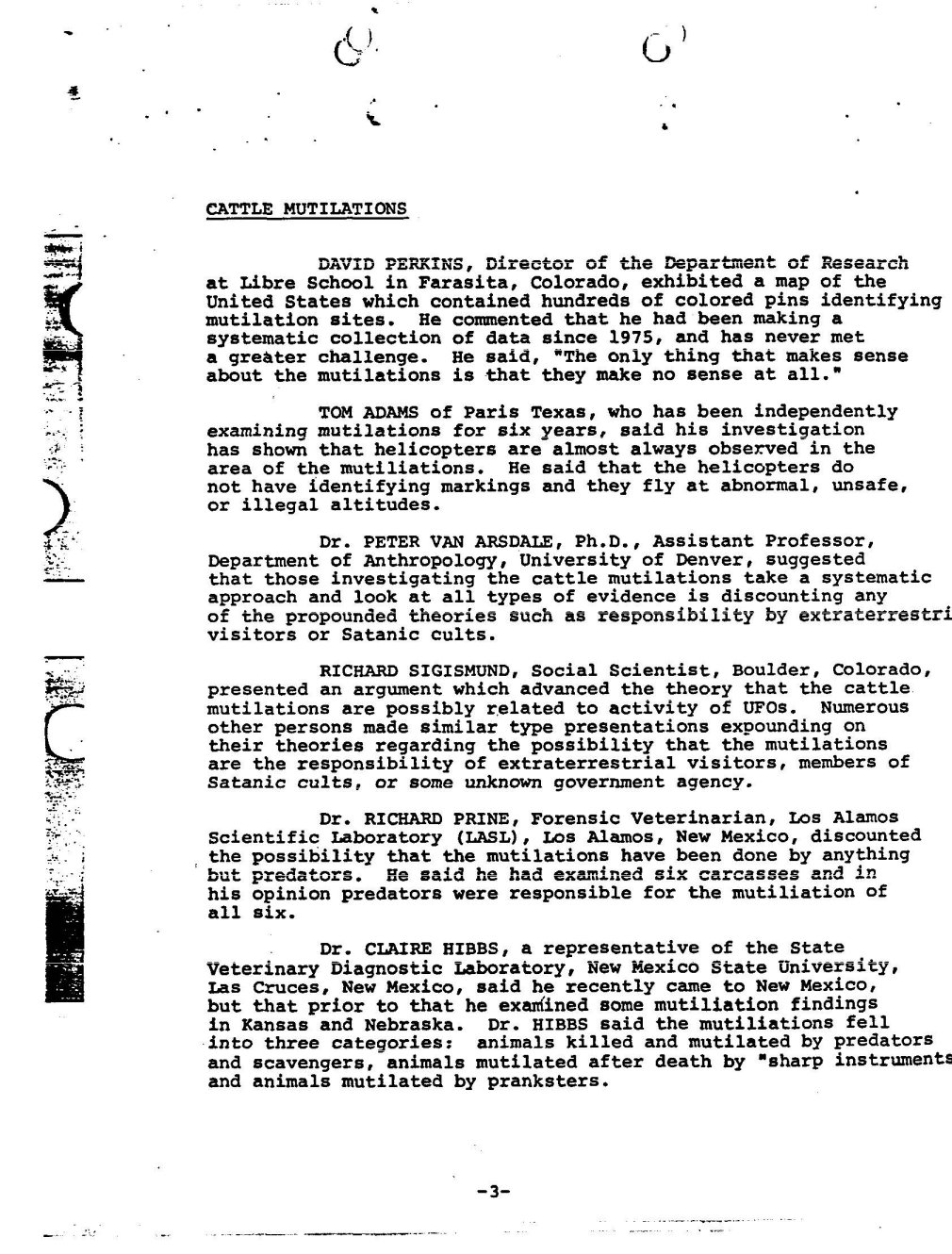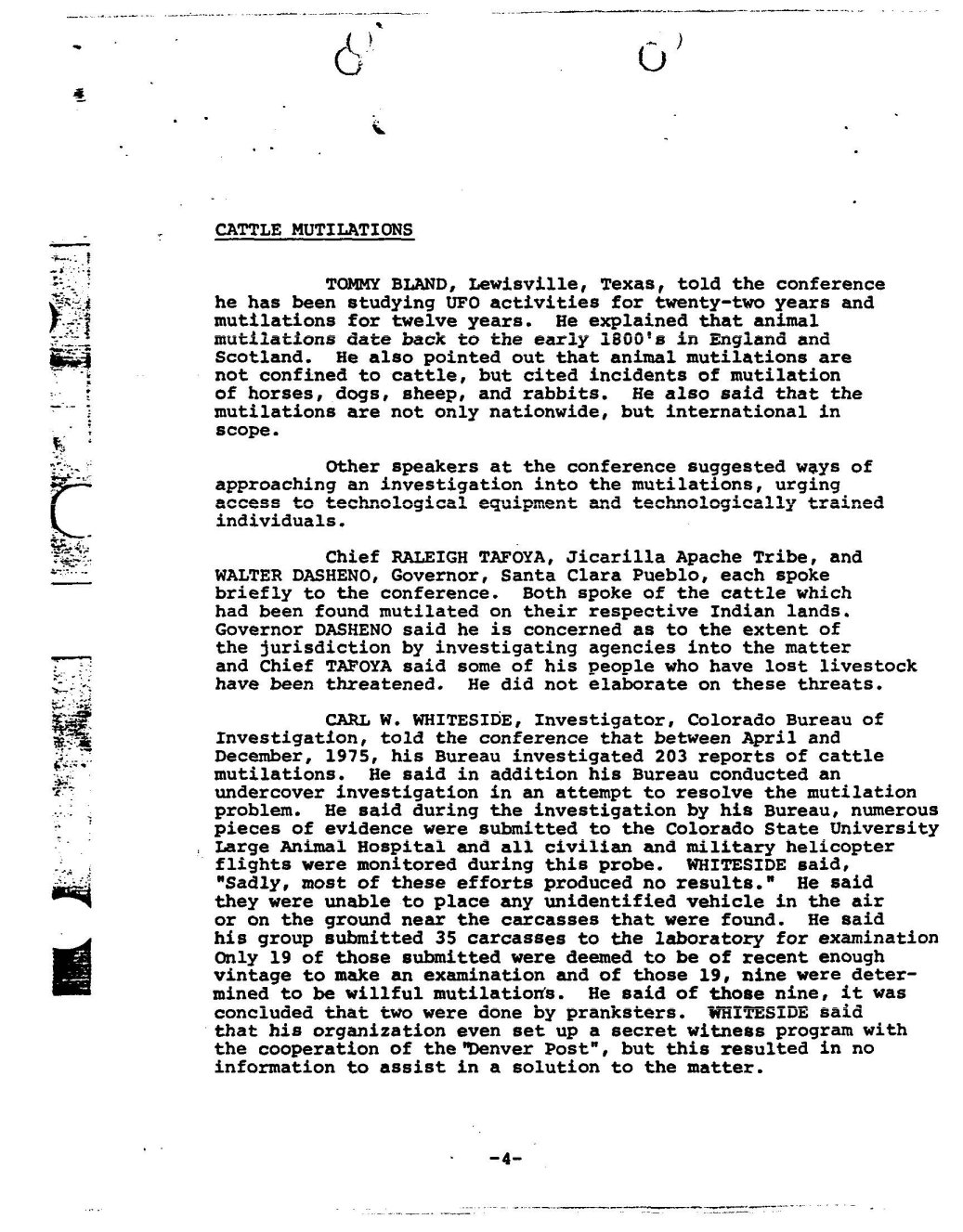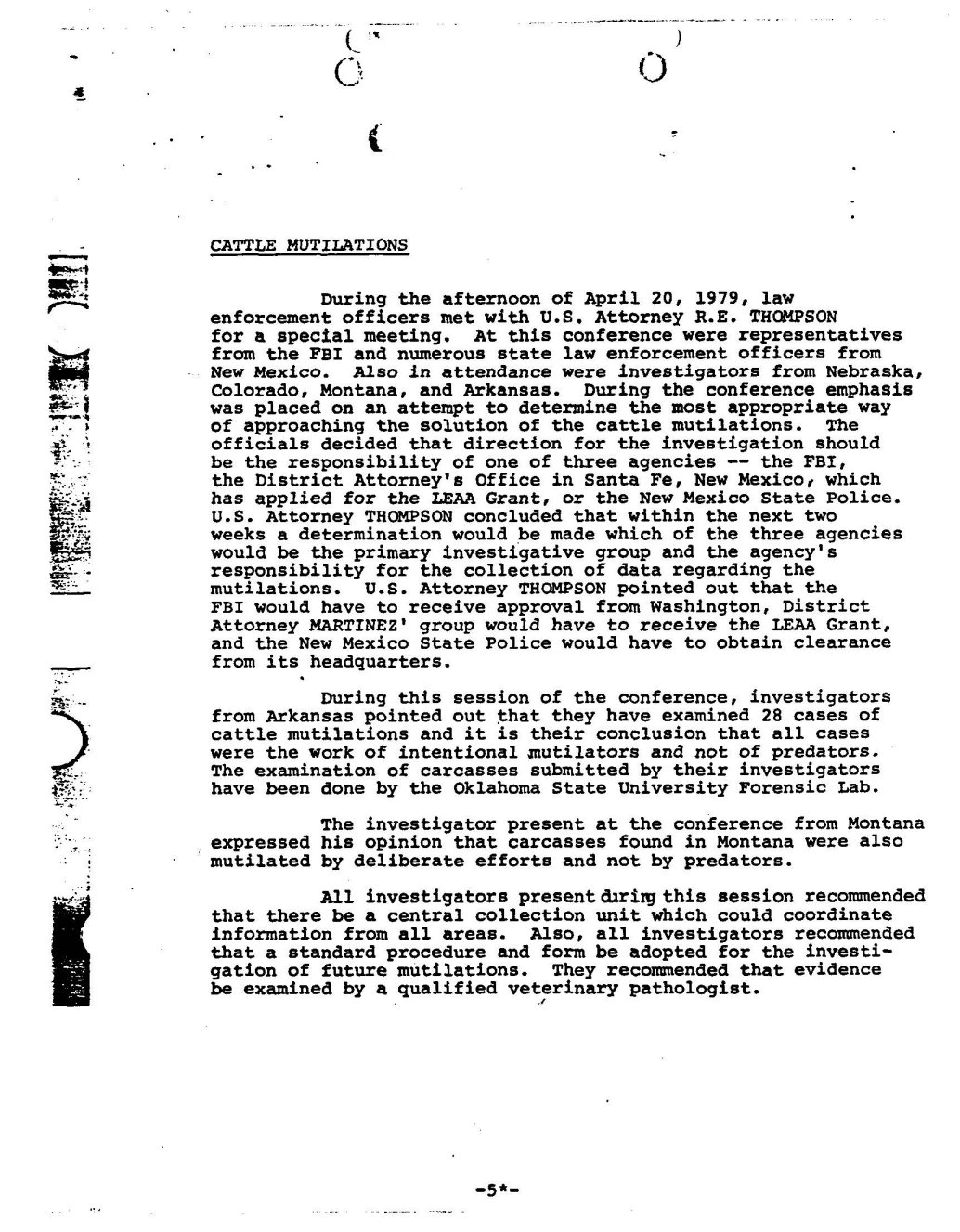 Sources:
http://en.wikipedia.org/wiki/Harrison_Schmitt
http://rr0.org/science/crypto/ufo/enquete/dossier/MutilationsBetail/FbiJoinsInvestigationOfAnimalMutilationsLinkedToUfos/index.html
http://vault.fbi.gov/Animal Mutilation
http://ufodigest.com/news/1107/cattle4.html