Michel M. Deschamps - Director
Encyclopedia of Terminology and Abbreviations

Close Encounters
---
Sudbury, Ontario, DAILY STAR, 25 August 1952, page 1
Strange Object Found in Woods Blasts Scouter
WEST PALM BEACH, FLA. (AP) - A deputy sheriff and two Boy Scouts added details Saturday to a Scoutmaster's story of his encounter with a strange object in a rural wooded area last Tuesday night.
They told of scorched grass, strange lights and showers of sparks in the area where D. S. Desvergers said he was "blasted by a ball of fire" from the object when he investigated flashes of light near a country road.
Desvergers, 30, hardware salesman, has described the object he encountered as shaped "like half a rubber ball," about three feet thick at the edge and high enough at the centre for men to stand erect inside.
He told Palm Beach reporters that he knows what the object was, but added: "It's better for me not to go any further for the public good because it might cause panic."
Desvergers reported he was taking three Scouts home Tuesday night when he stopped to investigate the lights in nearby woods. He said he was blasted by the ball of fire and overcome.
Deputy Sheriff Mott N. Partin, summoned by the Scouts, said the hair was singed off Desvergers' arms and three tiny holes were burned in his cap. He also said he found evidence of scorched grass where the Scoutmaster said he encountered the object.
The Scouts said the group saw a "big glow-white light come down out of the sky" and "there were about six reddish lights around it when it neared the ground."
---
North Bay, Ontario, NUGGET, 4 April 1966, Page 13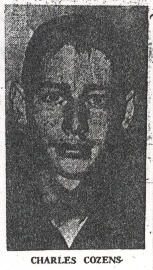 UFO touched by youth?
Displays curved burn on hand suffered in contact with antenna
HAMILTON (CP) - A 13-year-old Hamilton boy has a curved burn on his hand he claims came from touching the "antenna" of a soft-glowing "flying ship."
Charles Cozens claims two strange "ships" landed in a field behind a Hamilton police station Tuesday night.
Constable Arnold Read, summoned to the home after the parents repeatedly questioned their son before reporting the incident, verified the three-inch, yellowish burn mark on the boy's hand.
Charles said he ran behind a fence after seeing one "ship" land, closely followed by another.
He described the objects as "eight feet long, four feet wide and three feet high with red, blue and green lights set into the rim and flickering like a computer."
The boy said the objects made a buzzing sound and "lit up the grass around."
Only one had an antenna, he said.
When he touched the antenna, a flash "of electricity" occurred, and he received a shock.
---
Sudbury, Ontario, STAR, 24 May 1967, page 3
Says 'Flying Object' Burned Pattern on Him
WINNIPEG (CP) - Steve Michalak, a 50-year-old mechanic, insisted Tuesday he saw two strange objects drop from the sky and that he can "still feel a sort of foul smell coming from inside me" when he recalls the incident.
Mr. Michalak claims he saw the objects last Saturday near Falcon Lake, a resort area 75 miles east of here. One of them landed.
"I've lost 12 pounds in the last two days and I've been laughed at but I thought it was my duty to report what I had seen," he said at his home.
The objects were described as being about 35 feet long, eight feet high with a three-foot protrusion on top. While they bore a surface resemblance to stainless steel, they gave off a glaring red light.
His son, Mark, 19, said that when the craft took off his father received burns on his chest. The burns resemble a pattern, similar to a checker board. "One square has a number of dots in it while the next one is bare," the son said.
The father said he saw a door open on the craft, emitting a brilliant violet color. There were noises of air hissing and what sounded like human voices.
When the object took off it disappeared on the horizon within a minute.
"I examined the spot where the craft had settled down and I couldn't see any prints that might have been left by legs of any kind. All I saw was a bare spot, circular in shape with all the leaves and grass removed by the heat, I presume."
---
Sudbury, Ontario, STAR, 5 November 1973, page 3

Claims 'blue bullets' fired at her from UFO

PARRY SOUND - Crew members aboard an unidentified flying object should be given target practice to increase their marksmanship, a provincial police spokesman here said.

The comment follows the reported sighting of an unidentified flying object six miles east of here on Oct. 28 by a woman who claims shots were fired at her from the UFO.

She also claimed that her telephone line was temporarily scrambled to keep her from contacting police, the same procedure taken last year by another UFO she said she saw.

The woman told police the flying object had flashing lights, red on top and blue on the bottom. She said she tried to run to a neighbor's house to tell another woman so that her sighting would be confirmed.

But she said she was prevented from reaching this house by a beam of bright white light from the UFO which held her paralyzed.

While she was paralyzed by the beam, she said they shot "blue bullets" at her but missed.

"They weren't very good shots," the police spokesman said. "They should give them shooting lessons, wherever they come from."

He said this was the first such report he has ever had.

Police declined to release the name of the woman who made the report, but said the sighting occurred along Highway 518, the connecting road between highways 69 and 11.
---
Sudbury, Ontario, STAR, 13 November 1973, page 16

Ottawa family claims 100 m.p.h. chase by UFO

OTTAWA (CP) - A local family says an unidentified flying object with flashing white lights chased their truck along a highway at speeds up to 100 miles an hour last week.

Rick Bouchard, 25, his wife Donna, and their three small children, were returning to Ottawa on Highway 417 Thursday evening.

"Then I noticed these bright lights in my side-view mirror," said Mr. Bouchard.

Mr. Bouchard said he drove at speeds up to 100 miles an hour to escape a 10-foot-wide, oval-shaped object with flashing, white lights.

HOVERS OVER ROAD

He said the object came within 15 feet of the truck during the chase and hovered about four feet over the road.

"The children were petrified," said Mrs. Bouchard.

The object finally disappeared behind trees and the Bouchards telephoned police.

A family friend who drove along the same highway later in the evening to investigate said he was also chased by a similar object.

Ron Hamelin, 19, who works with Mr. Bouchard, said he crossed lanes on the highway, back-tracked and turned off his lights. The object disappeared.

"I know what I saw," he said. "If people don't believe me, that's tough."
---
Kirkland Lake, Ontario, NORTHERN DAILY NEWS, 21 January 1988, page 1

Aussie close encounter with egg-shaped UFO

ADELAIDE (Reuters) - An Australian family has told police an Unidentified Flying Object lifted up their car and shook it violently before dropping it back on a country road with a flattened tire.

The family, a woman and three sons aged 18 to 24, said they fled into surrounding bushes where they hid until the glowing, egg-shaped object left the scene early Wednesday morning, a police spokesman said.

"While this was happening, the family said their voices were distorted and it was as if they were talking in slow motion," he said.
---
Sudbury, Ontario, STAR, 22 January 1988, page 1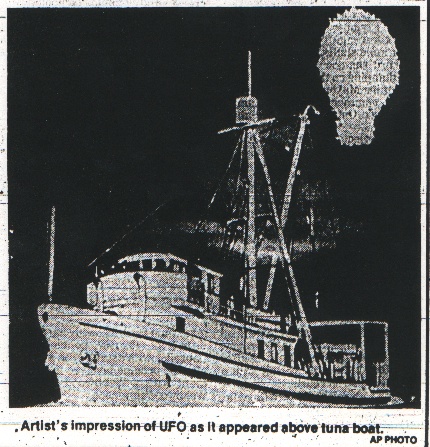 Police not scoffing at UFO sightings

SYDNEY (AP) - Two groups of Australians reported near simultaneous encounters with an unidentified flying object and police said Thursday they're taking the reports seriously.
A family of four said their car was chased by an eggcup-shaped object along a remote stretch of outback highway, plucked from the ground and covered in ash Wednesday morning, police reported.
The crew of a tuna boat 50 kilometres away also said they were buzzed by an unidentified flying object minutes later, and that their voices became unintelligible as a result.
Faye Knowles, a mother of three, also told police her speech and that of her sons changed during the encounter along the highway.
Police dismissed any suggestion of a hoax.
"We were a little bit skeptical at first," said Sgt. Jim Furnell of Ceduna Police in the state of South Australia. "But after investigating, we are treating the reports very seriously."
He said forensic scientists will examine the black powdery ash found inside and outside Knowles' car. She told police she was driving through the Nullabor Plain from Perth in Western Australia when she saw a glowing object in her rear window early Wednesday.
"It apparently picked the car up off the road, shook it quite violently and forced the car back with such pressure that one of the tires was blown," Furnell said.
"While this was happening the family said their voices were distorted and it was as if they were talking in slow motion."
He said the crew of a tuna boat could not have known about the Knowles' experience when they reported a UFO sighting in the Great Australia Bight, a body of water off the Australian coast.
Keith Basterfield of UFO Research Inc., an international organization that records such sightings, said if the sighting is confirmed "it will certainly be the most physical of encounters ever recorded in Australia."
A spokesman at the Royal Australian Air Force base in Edinburgh in South Australia said he wasn't aware of any military aircraft in the area at the time.
News clippings courtesy of The Kirkland Lake Northern Daily News, The North Bay Nugget and The Sudbury Star.