Michel M. Deschamps - Director
Encyclopedia of Terminology and Abbreviations

Crop Circles
---
Sudbury, Ontario, STAR, 30 October 1989, page 5

Imprints from wind - or aliens?
By BEN DOBBIN
Associated Press

LONDON - Scotland may have its Loch Ness Monster, but England has its crop-field rings.

Perfectly neat swirls of flattened crops, three to 30 metres in diameter, show up in the farmlands of southern England each year and have intrigued researchers for a decade.

The geometric formations, found amid otherwise undisturbed crops, have yielded a maze of interpretations: electrically charged spinning balls of air, tiny holes in the ozone layer, rutting deer, flying saucers, helicopters flying upside-down, even herds of demented hedgehogs rotating in unison.

Hoaxes have been effectively ruled out. If animals are to blame, they leave no trail of bent or broken stems.

Violent storms or whirlwinds don't create the precise patterns of crops crushed flat with the tautness of thatch.

Crops are never damaged and continue to ripen until harvest.

More than 600 of the mysterious configurations have been recorded since 1980 in fields of grass, barley, oats or wheat, as well as in stretches of sand, soil and snow. Of this summer's 270, two-thirds appeared in a zone 2.5 kilometres square near Avebury in Wiltshire's rural terrain, including 28 in one field.

Terrence Meaden, a physicist, is convinced they are caused by a previously unknown vortex, an inverse "dust devil" that, instead of sucking the surface, slams violently down into it.

Serious research into the circles mystery began in 1980, four years after the first recorded sighting at Headbourne Worthy in Hampshire.

A circle 4.2 metres in diameter with a 30-centimetre outer ring, appeared one morning this past August on Fred Cullimore's 77-hectare wheat farm near Bath in southwest England.

In his book The Circle Effect And Its Mysteries, physicist Meaden speculates that an unusual atmospheric disturbance generated by winds passing over a hill in south England's undulating landscape creates a spinning ball of air highly charged with electricity. It eventually plunges downward and leaves its uniform mark, he thinks.

Summer-long attempts to photograph the phenomenon have all been in vain. One group of 50 scientists and engineers armed with high-tech sensors and scanners settled down for a night-long vigil in June and, when dawn broke, discovered an elaborate pattern had formed directly behind their camp.

"It was as though some intelligence was saying: 'So you think you can pin us down!'" says Pat Delgado.
---
Sudbury, Ontario, STAR, 21 August 1990, page A2

Mystery circles appear in Manitoba

WINNIPEG (CP) - A circle that flattened part of a wheat field is similar to those found in England, says a spokesman for the Centre for UFO Studies.

The 20-metre circle flattened the wheat in a counter-clockwise direction, said Chris Rutkowski, who viewed the mysterious ring just west of Winnipeg near the Trans-Canada Highway.
---
Sudbury, Ontario, STAR, 8 September 1990, page A2

Mysterious rings just won't quit

SASKATOON (CP) - Strange circular patterns of flattened wheat in a field north of Prince Albert have some local residents worrying about flying saucers.

"At the risk of sounding like a loonie-bird, I'd say we've been visited by extra-terrestrials," said area resident Darrell Roth.

The neat, symmetrical patterns were discovered last week in farmer Ray Fisher's field, about 48 kilometres northwest of Prince Albert in northern Saskatchewan.

"The baffling part is that the dirt under them (the circles) has not been disturbed. It looks as though there's been no weight on the circles. There's no indentations on the dirt," Roth said.

Ripened wheat was bent over about five centimetres from the ground in a clockwise direction. The wheat was not damaged in any way.

One set of three concentric circles is almost 18 metres across with two, two-metre circles nearby. A second pattern, about 120 metres away, has only one ring around a centre circle.

There are no tracks leading to the patterns.

Roth doesn't think the wheat was flattened by the wind. The markings are too orderly. But he doesn't rule out the possibility of secret government experiments.

Fisher called the RCMP after discovering the patterns while swathing. But no investigation was held because officers were unable to find Fisher's field.

Don Friesen, an amateur astronomer and vice-president of the Saskatoon chapter of the Royal Astronomical Society of Canada, examined the circles on Friday.

"I think they could be left by extra-terrestrial spacecraft," he said.

Chris Rutkowski, a civilian UFO researcher in Winnipeg, said the patterns sound similar to at least six such rings found in Manitoba in the last two weeks.

Rutkowski has contacted groups in England who are studying some of the more than 1,000 such patterns that have appeared there this summer.
---
Sudbury, Ontario, STAR, 2 October 1990, page A2

Oh no! Not more circles

SASKATOON (CP) - More mysterious circles have turned up in Saskatchewan wheat fields, leaving scientists baffled by the strange markings and people thinking of visitors from outer space.

The most recent markings, discovered two weeks ago near Meath Park, Sask., are attracting a steady flow of curious people to the fields. Meath Park is about 150 kilometres northeast of Saskatoon.

"It's more than strange that we've been growing grain for centuries and it has only been in the past three or four years these have appeared," said Herman Austenson, a professor of crop sciences at the University of Saskatchewan.

Clarence Brule, who discovered the Meath Park circles, and Austenson aren't buying explanations the circles are the work of pranksters or weird weather patterns.

"I believe they were made by some kind of craft. . .extra-terrestrial or army," Brule said.

He said there are two circles - one inside the other, with the largest about three metres in diameter.

The circles are considerably larger - but of a similar nature - to one found by farmer Mike Shawaga, about two weeks ago near Alvena 30 kilometres northeast of Saskatoon. And in late August, a farmer about 180 kilometres northwest of Saskatoon discovered a series of neat, symmetrical patterns in his field.

One set of three concentric circles was about 18 metres across with two, two-metre circles nearby. There were no tracks leading from the circles and there were no depressions in the earth.

Brule said there were no tracks near the most recently discovered circles.

"They were so well defined - they went from standing stubble to compressed grain."

He said the earth below was not compressed.

"It seems something hovered there. Anything with weight would compress the earth."

Brule said he had a call from a researcher in Winnipeg, but no one in the scientific field has come to look at the rings.

"It (the circle) definitely isn't normal," said Austenson, who has studied grain fields for 40 years.

"I don't think whirlwinds would do it. They've been around for decades and have never done anything like this."

This past year circles have been found in at least three locations in northern Saskatchewan and another half-dozen in Manitoba.

Scientists are also studying similar occurrences in England and Australia. More than 1,000 circular patterns have been discovered in England.
---
Sudbury, Ontario, STAR, 29 August 1991, page B2
UFO Check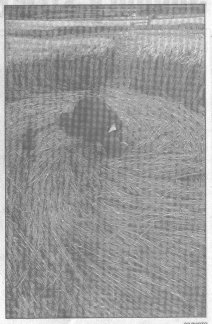 CP PHOTO
RUN DOWN: Farmers just minutes from Calgary discovered circles in their fields Wednesday. There is no reasonable explanation for the circles, so Gordon Kijak from the Alberta UFO study group flew in from Edmonton to have a look.
---
Sudbury, Ontario, STAR, 4 September 1991, page A4

Crop circles defy any explanation

LETHBRIDGE, Alta. (CP) - The mystery is growing as peculiar circle patterns continue to turn up in southern Alberta crop fields with no apparent cause.

Two new sites of crop circles were discovered near the city of Lethbridge over the weekend.

One site was discovered near an animal disease research institute about five kilometres west of the city Saturday.

Three circles were then found on a farm Sunday, with connecting pathways, about three kilometres southeast of the site discovered Saturday.

Farmer Jenny Skinner said a man combining a wheat field she leases from the city came upon the circles - two of them four metres in diameter, and a third, two-metre circle - all connected by narrow trails.

"It makes me nervous," Skinner said Tuesday. "I don't think I want to be alone out here at night any more. We've farmed this land since 1960 and we've never seen anything like this."

"Sometimes you'll find a spot where a deer has lain down, and you can see the footprints, but that's completely different."

That makes four crop-circle sites which have turned up in southern Alberta in the last few weeks. The first, on Aug. 21, was in a wheat field just north of the Lethbridge city limit.

Gordon Kijek, director of a UFO study group based in Edmonton, investigated the north Lethbridge site and a subsequent finding a few days later of larger circles near Okotoks, a community about 20 kilometres south of Calgary.

He said samples of grain and earth taken from the first two sites are being tested by Alberta Agriculture and a UFO research facility in Winnipeg.

He said several people who visited the north Lethbridge site reported headaches afterward, but added he didn't experience such problems.
---
Sudbury, Ontario, STAR, 2 July 1992, page 4

Crop circles now take U-shape

ST. ADOLPHE, Man. (CP) - Those confounding crop circles are back but this time they're in the shape of horseshoes.

Roberta Younger said Wednesday she and her husband Wilfred were astounded when they saw the flattened U-shapes in a field outside their trailer near St. Adolphe, just south of Winnipeg.

"He was just making coffee and looking out the kitchen window when he saw it," Roberta Younger said.

"He called me over to see if he was seeing things, but he wasn't."
---
Sudbury, Ontario, STAR, 16 July 1994, page A4
Mystery circles appear in farmer's field
From the ground, it is difficult to tell how the wheat was flattened

MALDEN CENTRE, Ont. (CP) - Pranksters or aliens? You be the judge.
A bizarre pattern in a wheat field in southwestern Ontario has more than a few people wondering.
The strange symbol appeared in a field farmed by brothers Darwin and Gerry Wismer some time in the past week and was noticed by neighbor Jon Parks as he passed by Tuesday.
"I could see the wheat was down so I stopped to take a look. That's when I saw it was pushed down cleanly," Parks said.
Parks drove on and later called a local newspaper to report the phenomenon. By Thursday afternoon, a crowd of perplexed locals had gathered at the site, about 25 kilometres south of Windsor.
"I've never seen anything like it," said Parks. "If someone did this they went to an awful lot of trouble."
When local businessman Barry Purdie arrived with his 30-metre boom truck for an aerial view, things really got interesting. From the air, the perfect symmetry of the figure became eerily apparent.
"It's hard to believe that this was done by people," said Matt Parlette, who took a camera aloft for a bird's eye view.
The Wismers toured the site briefly, shrugged, and declined to comment. Then they set off to get their combine. This was one crop circle that would have a short life span.
The circle was granted a reprieve a short time later when a moisture test showed the wheat was still too wet to harvest. The brothers hope to finish the combining in a few days if the weather holds.
From the ground, it is difficult to tell how the wheat was flattened.
There was no trail leading to the scene from a nearby road, no evidence of any vehicle or mechanical device, and no obvious footprints in the dry, hard soil.
The figure is based on a central corridor, 2.5 metres wide and about 50 metres long.
At each end are concentric circles, the largest about 15 metres in diameter. Several T-shaped figures are attached to the main figure and several more circular marks about two metres in diameter have been formed.
When provincial police Sgt. Bob Wollison arrived, his first concern was for the wheat trampled by onlookers.
"Farmers don't like people knocking down their crops," he said.
But after an inspection of the site, Wollison was as perplexed as anyone else. He leans towards the mischievous teenagers theory.
"Now that Boblo Island (an amusement park) is closed, there's an awful lot of kids around with nothing to do," he said.
News clippings courtesy of The Sudbury Star. Color photo copyright of holder. No infringement intended. For educational purposes only.