Date: September 1992
Location: Elk River, Minnesota, United States

Since a woman told police that she spotted a UFO in her Elk River neighborhood, three more sightings of UFOs in the Elk River area occurred in mid-September, 1992. One man in Albertville saw a saucer-shaped object, 5-6 feet across. Then, a person who works for him, Terry Townsend, saw a UFO the size of a passenger jet that was ringed with lights. And a cab driver witnessed a UFO with 10 porthole-type lights.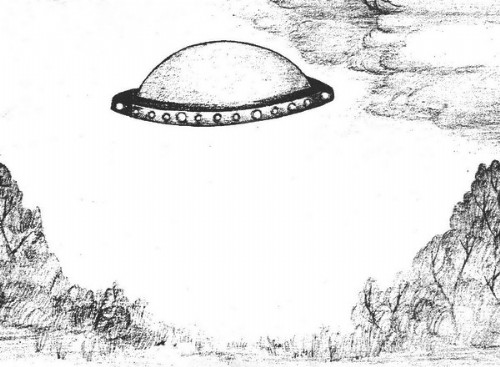 Drawing of the UFO described by Terry Townsend on Sept. 16. (Betsy Wait, Star News)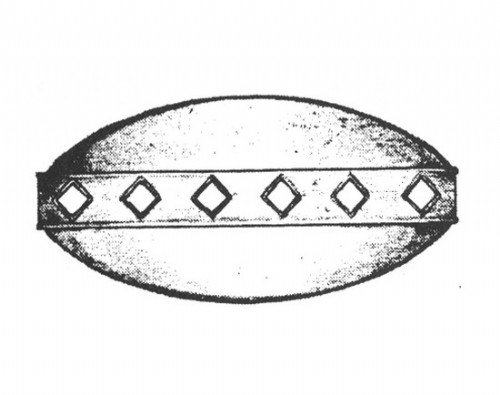 The man from Albertville described this object, seen on Sept. 13, to graphic designer Betsy
Wait of Star News. (Star News)
Source: Joni Astrup, Star News (Elk River, MN), Sept. 30, 1992
"More UFO sightings reported:
Four people say they saw flying objects in Elk River area"
by Joni Astrup, Staff writer
Star News
Several more reports of unidentified flying objects (UFOs) have surfaced since a woman told police that she spotted a UFO in her Elk River neighborhood, earlier this month.
In all, four individuals have reported seeing UFOs in the Elk River area in mid-September. Here's a rundown of what they saw and when:
• Sunday, Sept. 13: A man who lives near Albertville looked out his patio door about 10:30 p.m. and saw a reflection of light on his neighbor's window. When he walked out into his yard to investigate, he spotted an object about 100 yards away and 50 yards above the ground.
He said it was 5 to 6 feet across, 1 to 2 feet thick and tapered on each end like a saucer.
The object had several diamond-shaped windows or lights in a row around the middle. An unusual yellow-blue light shone from the diamonds.
The top and bottom of the object were stationary, but the center was spinning counterclockwise, he said. While the diamonds were located in the spinning region, they remained in place.
The man said he watched the object for about 20 seconds "and then suddenly, the lights went out and it was gone."
He said the object was silent.
• Wednesday, Sept. 16: Terry Townsend of Princeton, who works with the man from Albertville [who also had a sighting, a few days earlier], said he encountered a UFO after midnight as he was driving through northeastern Elk River on his way home from work as an industrial mechanic in the Twin Cities.
Townsend describes in detail what he saw in a letter to the editor on page 4. [not available]
He said the dark grey object was the size of a large passenger jet and was ringed with white, red and green lights. The round, white lights could have been portholes, he said.
Shining from the portholes "was a pure white light like you've never seen before." Each white light wasn't one beam like a spotlight, but was made up of about a dozen smaller beams similar to light coming through a prism.
The light only extended about two feet beyond the edge of the object, he said, 400 feet off the road. Townsend said he was startled but not afraid when he came around a bend in the road and saw it.
"You read about it, you see pictures and think that's not possible, it can't be," he said. "It's unlike anything you've ever been through. You don't fully understand it until you experience it."
He said he doesn't feel the objects are anything to fear.
• Thursday, Sept. 17: As described in last week's Star News, an Elk River woman reported seeing strange lights about 4:45 a.m. after getting up to go to the bathroom. The three huge lights were hovering about six feet off the ground in her neighbor's back yard. When she moved to another windowforabetter look, the lights had moved and she saw a large beam of light shining on the street.
"The beam of light was there and then it was gone," she said. "That's when I thought I must have witnessed a UFO."
She reported the incident to police.
• Friday, Sept. 18: A cab driver traveling through Elk River about 8 p.m. told police he saw an object in the air near the intersection of Baugh Street and County Road 12 east of Elk River.
The man, who declined to be named, said the passenger in his car also saw the object and kept an eye on it as they drove west into Elk River.
He described it as fairly large and traveling close to the ground — too close to be a passenger jet. The object was quite far off in the distance and moving slowly in a northwesterly direction.
The man said they were unable to make out its shape, but a row of at least 10 porthole-type lights were visible. It appeared light was streaming through the portholes, he said.
"It was amazing," he added. "I just can't imagine what it was." The sightings have attracted the attention of an organization called the Mutual UFO Network Inc.
Gary Thrash, a member of the group in the Twin Cities, said they like to go out and talk to the people who report UFOs and see where the objects were spotted, soil samples and have them analyzed.
The Mutual UFO Network Inc. is a non-profit research organization with about 4,000 members worldwide.
Thrash said people have reported seeing UFOs of a variety of shapes ranging from diamond, saucer and wing-shaped to square, V and cigar shaped.
People commonly hear a low humming noise from the object if it is very low or the person is directly under it. Otherwise, he said the objects are generally silent.
Source:
http://www.ufoevidence.org/cases/case730.htm