Michel M. Deschamps - Director
Encyclopedia of Terminology and Abbreviations

Radio Station News Wires
The following news wires were given to me by some of my contacts from CJMX, a local radio station, once they were done with them:
---
February 2, 1993
SOMETHING WAS IN THE SKIES ABOVE HUSTISFORD, WISCONSIN, SUNDAY EVENING.
A DODGE COUNTY FARMER SAYS IT LOOKED LIKE A SPACE SHIP. OTHER WITNESSES TO THE SIGHTING 50 MILES NORTHWEST OF MILWAUKEE DESCRIBED IT AS A FLAT OBJECT WITH A BRIGHT LIGHT IN THE CENTER AND YELLOW LIGHTS ON THE SIDE.
TWO SHERIFF'S DEPUTIES WHO TRACKED THE UNIDENTIFIED FLYING OBJECT AS IT TRAVELED WEST TOWARD COLUMBUS THEN SOUTH INTO JEFFERSON COUNTY CALL IT AN UNUSUALLY BRIGHT LIGHT.
WHATEVER WAS IN THE SKY ABOVE HUSTISFORD IS LEAVING SHERRIF STEVE FITZGERALD SCRATCHING HIS HEAD. HE SAYS AIR TRAFFIC CONTROLLERS SAY THERE WERE NO REPORTS OF AIR TRAFFIC IN THE AREA AT THE TIME.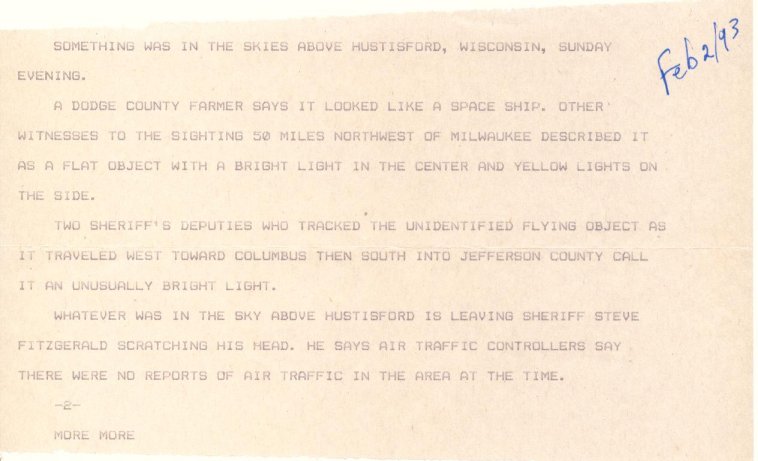 February 2, 1993
---
CJMX News Wire - April 12, 1993
WE ARE NOT ALONE - MAYBE.
SEVERAL REPORTS OF UNIDENTIFIED FLYING OBJECTS IN SOUTHWESTERN OHIO HAVE BEEN REPORTED TO AUTHORITIES.
A DISPATCHER AT THE OHIO HIGHWAY PATROL POST IN LEBANON SAYS THERE WERE SEVERAL REPORTS OF U-F-O'S OR LIGHTS IN THE SKY BY GUARDS AT THE LEBANON AND WARREN CORRECTIONAL INSTITUTIONS EARLY THURSDAY. THE SHERRIF'S OFFICE ALSO RECEIVED SEVERAL CALLS.
JERRY BLACK... A U-F-O INVESTIGATOR AND LECTURER AFFILIATED WITH GROUND SAUCER WATCH... SAYS HIS GROUP HAS BEEN GETTING CALLS FOR THE PAST MONTH ABOUT LOW-FLYING TRIANGULAR SHAPES WITH HEADLIGHTS. BUT... HE SAYS... "THEY COULD HAVE BEEN LOW-FLYING AIRCRAFT."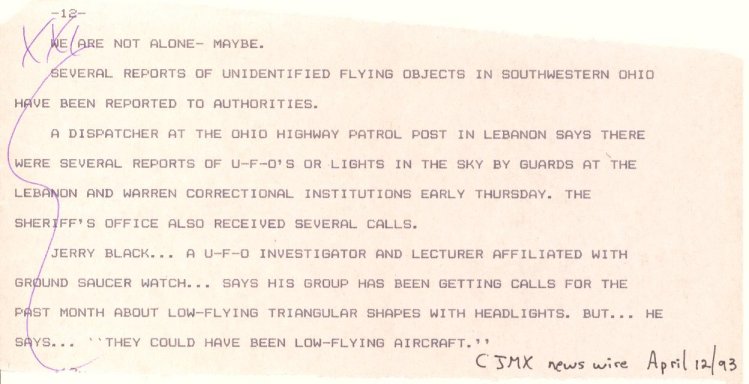 April 12, 1993
---
June 1993
HAVE YOU EVER SEEN A UFO? WELL, IF YOU HAVE, THE MANITOBA PLANETARIUM IN WINNIPEG WANTS TO HEAR FROM YOU. AS PART OF THE PLANETARIUM'S 25TH ANNIVERSARY CELEBRATIONS, A NEW FEATURE-LENGTH SHOW IS BEING DEVELOPED WHICH WILL STUDY THE UFO PHENOMENON, WITH A SPECIAL EMPHASIS ON MANITOBA SIGHTINGS. THE PRODUCTION WILL OPEN IN THE PLANETARIUM STAR THEATRE IN OCTOBER. THE NUMBER TO CALL TO TELL YOUR UFO STORY IS (204)-988-0627.

June 1993
---
March 17, 1994
(DETROIT) AUTHORITIES IN WESTERN MICHIGAN ARE TRYING TO EXPLAIN WHY DOZENS OF PEOPLE FROM GRAND RAPIDS TO THE LAKE MICHIGAN SHORE SAID THEY SAW UNUSUAL OBJECTS IN THE NIGHT SKY LAST WEEK.
THE SIGHTINGS OF LOW-FLYING, BRIGHTLY LIT OBJECTS APPEAR TO COINCIDE WITH UNUSUAL RADAR TRACKINGS BY THE NATIONAL WEATHER SERVICE'S MUSKEGON. MICHIGAN, OFFICE.
RANDI MURPHY SAID SHE AWOKE THE NIGHT OF MARCH 8TH TO SEE AN OBJECT JUST ABOVE TREETOP LEVEL. AT FIRST SHE THOUGHT THE LIGHTS RESEMBLED A JETLINER'S LIGHTS, BUT SAID THE OBJECT MOVED SLOWLY AND DID NOT SOUND LIKE A JETLINER.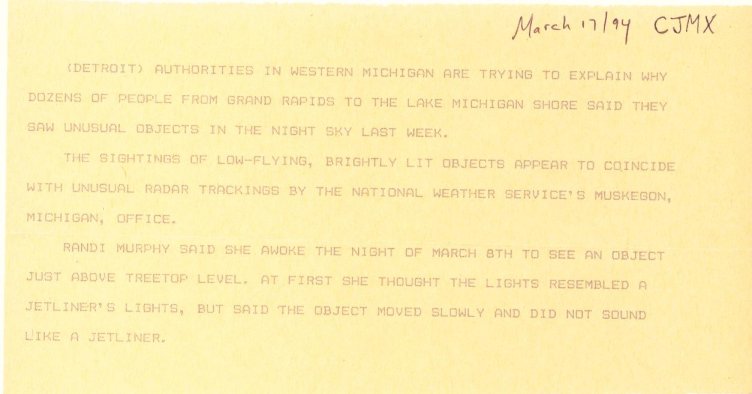 March 17, 1994
---
March 18, 1994
A GROUP OF U-F-O INVESTIGATORS PLANS TO LOOK INTO DOZENS OF REPORTS FROM PEOPLE WHO SAY THEY'VE SEEN WEIRD LIGHTS AND GLOBE-SHAPED OBJECTS HOVERING ABOVE WESTERN MICHIGAN.
THE FIRST U-F-O REPORT CAME IN THE NIGHT OF MARCH 8TH FROM SEVERAL PEOPLE IN THE LAKE MICHIGAN COMMUNITIES OF SOUTH HAVEN, GRAND HAVEN AND HOLLAND. THAT SAME NIGHT, A NATIONAL WEATHER SERVICE WORKER IN MUSKEGON REPORTED SPOTTING AN UNUSUAL RADAR BLIP.
THE MOST RECENT SIGHTING WAS REPORTED TO POLICE TUESDAY IN WYOMING... ABOUT 25 MILES FROM THE LAKESHORE.
SHIRLEY COYNE...THE STATE DIRECTOR OF THE MUTUAL U-F-O NETWORK...SAYS SOME OF THE 250 MEMBERS STATEWIDE WILL HELP DOCUMENT THE SIGHTINGS. THEY'LL INTERVIEW PEOPLE WHO MADE THE REPORTS...TAKE PHOTOS...MAKE DRAWINGS...AND VISIT SIGHTING AREAS.
COYNE SAYS LAKE MICHIGAN IS A HOTBED OF U-F-O ACTIVITY.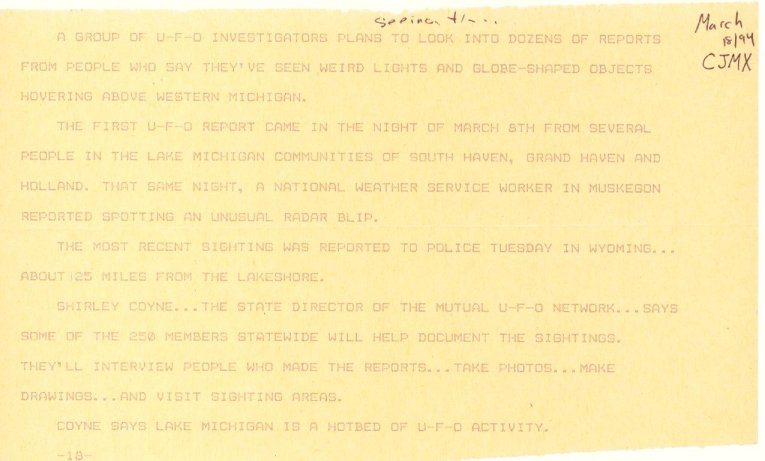 March 18, 1994
---
May 16, 1994
(UFO COVERUP)
A UFO RESEARCHER IS ACCUSING WORLD GOVERNMENTS OF A "COSMIC WATERGATE." STANTON FRIEDMAN TOLD A GROUP OF ABOUT 200 PEOPLE AT A HALIFAX CONFERENCE THE COVER-UP HAS BEEN GOING ON SINCE 1947.
HE SAYS IN JULY OF THAT YEAR, TWO FLYING SAUCERS AND SEVERAL ALIEN BODIES WERE RECOVERED IN NEW MEXICO. FRIEDMAN SAYS GOVERNMENTS ARE HIDING THE INFORMATION TO PROTECT NATIONAL SECURITY, ECONOMIES AND THE BELIEF THAT EARTHLINGS ARE THE ONLY INTELLIGENT LIFE IN THE UNIVERSE.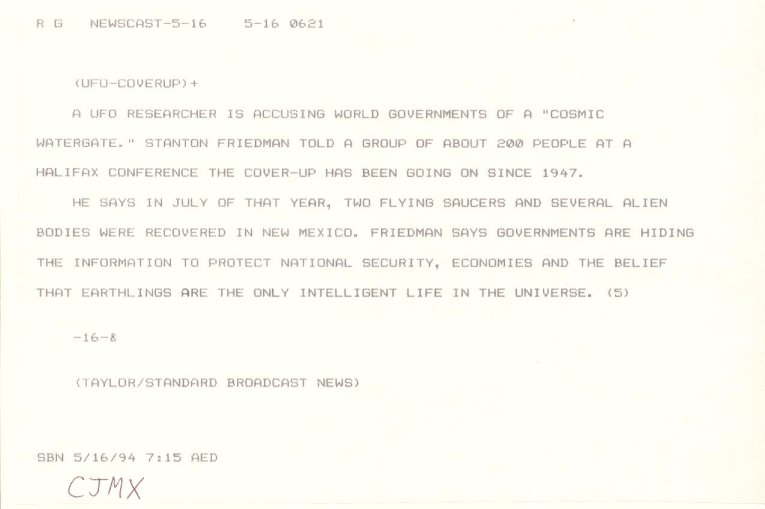 May 16, 1994
---
March 20, 1996
(UFO SIGHTING?)
A GROUP OF LUMBER MILL WORKERS NORTHWEST OF OTTAWA ARE PUZZLING OVER A FLYING OBJECT THAT LANDED IN FRONT OF THEM THIS MORNING.
ONE WORKER AT THE WALTHAM DRY KILNS YARD, ACROSS THE OTTAWA RIVER FROM PEMBROKE, SAYS THE OBJECT WAS ABOUT 60 CENTIMETRES ACROSS AND DIAMOND-SHAPED AND APPEARED TO BE MADE FROM ALUMINUM.
HECTOR BROCHUR SAYS IT TOOK OFF WHEN HE APROACHED IT.
HE AND EIGHT OTHER WORKERS WATCHED IT HOVER IN THE SKY FOR ABOUT 15 MINUTES BEFORE IT VANISHED.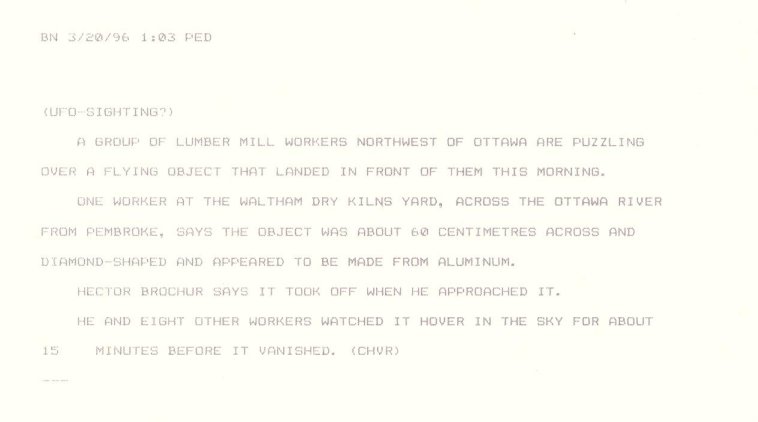 March 20, 1996
---
March 20, 1996
(UFO SIGHTING?)
WALTHAM, QUEBEC - U-F-O EXPERTS ARE CURIOUS ABOUT A MYSTERIOUS OBJECT THAT WITNESSES SAY LANDED IN A LUMBER YARD IN WESTERN QUEBEC.
THE MUTUAL U-F-O NETWORK, A GROUP OF AMATEUR U-F-O TRACKERS, CHECKS OUT SUCH CLOSE ENCOUNTERS.
THE NETWORK'S MIKE WOODS SAYS THE EIGHT PEOPLE WHO SAW THE OBJECT ARE NOT ALONE.
HE SAYS THE SIZE OF THE DIAMOND-SHAPED OBJECT, DESCRIBED AS ABOUT 60 CENTIMETRES ACROSS, IS THE MOST "STRIKING" FEATURE.
WOODS SAYS IT'S RATHER UNUSUAL, BUT "NOT WITHOUT PRECEDENT."
HE SAYS SIMILAR OBJECTS HAVE BEEN SPOTTED IN THE RECENT PAST AND IN THE LAST 50 YEARS.
THE NETWORK WILL DISPATCH INVESTIGATORS TO CHECK OUT THE WALTHAM SIGHTING.
A LUMBER MILL WORKER SAW IT LAND YESTERDAY MORNING AND HE AND HIS CO-WORKERS SAY THEY WATCHED IT HOVER IN THE AIR BEFORE TAKING OFF.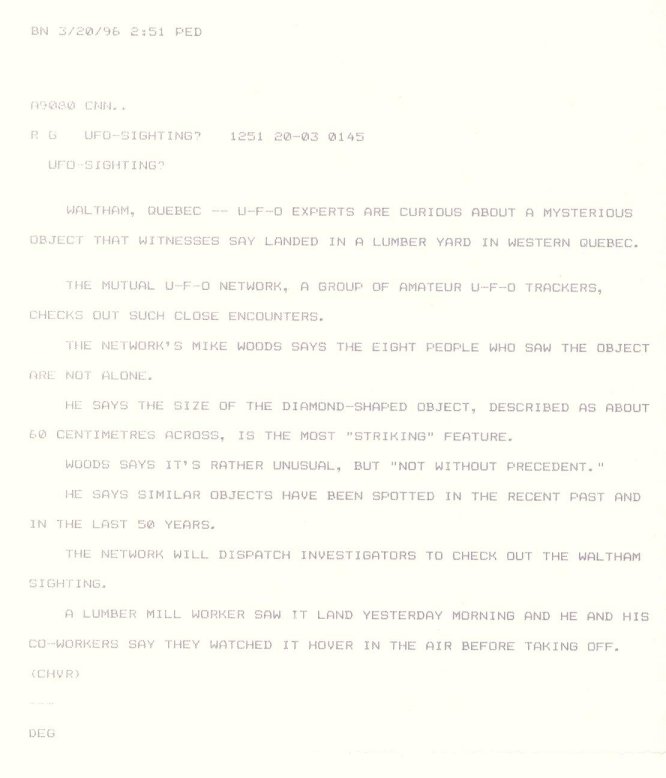 March 20, 1996
---
June 11, 1996
There were nearly 400 U-F-O sighting in Canada over the past two years and most can be explained.
U-F-O researcher Chris Rutkowski says lights in the sky usually turn out to be a plane, star or planet, but adds that sometimes, there's no explanation.
He says about three per cent of sightings can't be explained. June 11, 1996
---
June 11, 1996
U-F-O sightings
WINNIPEG - Out of nearly 400 U-F-O sightings in Canada over the past two years only three per cent cannot be explained.
U-F-O researcher Chris Rutkowski says that light in the sky is usually a plane, star or planet, but sometimes, there is no explanation.
His group, based in Winnipeg, compiled information from the National Research Council, R-C-M-P reports, the Department of transport and civilian U-F-O groups.
In 1994 and '95 more U-F-O s were spotted on the Prairies than in Ontario or Quebec.
Rutkowski says it could be because there are active U-F-O groups on the Prairies or because it's easier to see objects in the big Prairie sky.
One unexplained sighting involves several reports of black triangles spotted over Alberta and B-C.
In another incident a disc-shaped object flew circles around a plane in north Ontario.
Rutkowski says people will always be fascinated with what's in the sky and whether or not we share the universe with other beings. June 11, 1996
---
December 16, 2000
HOUSTON - It was like something out of the "X-Files."
An object zipped past the window of the space shuttle "Endeavour" today.
Astronaut Janet Voss describes the object as small, lumpy, white and fast.
Engineers are trying to pinpoint where on the shuttle the object originated and what launched it after six days in orbit.
It could be a piece of ice or some other debris from around the bottom of the shuttle's radar mast.
The astronauts have been trying to fire up a small thruster on the mast by switching its fuel valves on and off.
They hope that will clear whatever is clogging the thruster.
(ABC)
No infringement intended. For educational purposes only.