Airline pilots claim sighting a UFO hundreds of times larger than the moon above Shanghai
23 August, 2011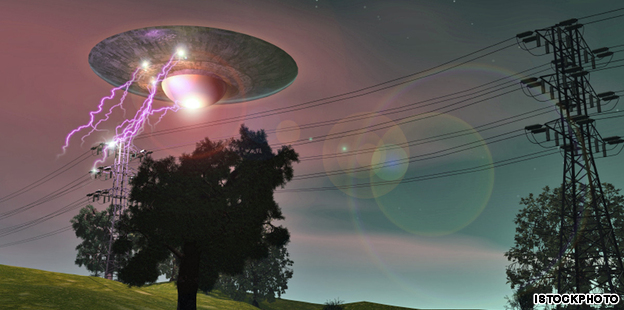 Saturday's UFO was reportedly so massive that it was seen in Shanghai and Beijing at the same time.
[This artist's rendering is not of the UFO in question.]
An unidentified flying object (UFO) was reported above Shanghai and Beijing at the same time on August 20.
The "colossal unidentified glowing ball" was first sighted around 9 p.m. last Saturday above Shanghai by a Chinese civil aviation pilot flying China Southern Airlines flight CZ655 from Shanghai to Changchun.
The pilot, nicknamed "The girl-picking mushroom 168" on the Internet, reported the incident via Sina Weibo and described it as a shocking experience.
"[The object] expanded from small to large and was spherical in shape. It was hundreds of times larger than the moon and its diameter seemed to reach 50 sea miles (92.6 kilometers)," the pilot wrote on Weibo.
The pilot added that the UFO faded gradually after hovering above Shanghai for about 20 minutes.
"The girl-picking mushroom 168" was not the only one to spot the UFO. According to the East China Air Traffic Control Bureau, its air control department received reports from several pilots on August 20 about the UFO.
"Based on their descriptions, the glowing object was far away from the airplanes and posed no danger to flight safety and civil aviation," East China Air Traffic Control Bureau told the press.
No flights were affected by the UFO in Shanghai.
Some 1,500 kilometers north of Shanghai, several amateur astronomers said they spotted a "bubble-like object" above the suburbs of Beijing during a star-gazing event around the same time on August 20, Xinhuanet.com reported.
Ma Jing, an engineer with the National Astronomical Observatories, told Shanghai Daily that he took a set of pictures showing the object rise from the west like an "expanding round white cloud," but that the object disappeared several minutes later. See Ma's UFO shot here.
An anonymous expert from Shanghai UFO Research Center said that the UFO could be the fragment of a satellite launched by Russia two days earlier.
China News Service reported that a Russian communications satellite, the Express-AM4, disappeared after takeoff on the morning of August 18.
Consecutive UFO sightings were reported last year in Hangzhou and Chongqing.
Source:
http://travel.cnn.com/shanghai/life/ufo-sighted-chinese-airlines-pilots-684715